Her Wellness Hub!
Raising HER Consciousness of Fibroids
Her Nexx Chapter Fibroids Awareness program provides practical wellness strategies applicable with coping and coaching support as well as access to all templates and worksheets with group support. Our community group strategy and one-on-one coaching sessions are a combined 90 days from bi-weekly sessions with an action plan developed for personal self-healing, deeper self-work, and ongoing community support. The one-on-one assigned coaching is designed to empower you to learn how to advocate for your own health and wellness and co-create an agenda with an assigned licensed psychologist, dietitian, and certified wellness health coach. Our participants are invited into the larger masterclass private community for continued input and encouragement.
Raising HER Consciousness of Fibroids
Our fibroids wellness program is staffed and facilitated by a licensed psychologist, medical OB/Gyn, and dietitian and wellness health coaches who meet the educational and practice standards to be recognized as certified.
This program is not intended to replace any medical advice or seeking proper medical advice from your doctor. It is highly recommended if you have not sought medical treatment from your OB/Gyn that you do so for the proper plan and advice based on your individual condition.
PART I – Mental Support Group Sessions (Her Wellness Hub)
A 60-minute listening session is designed to be a safe space where an intimate group of women (25 max.) can freely express their emotional injuries and distress while dealing with fibroids. Her Wellness Hub allows participants to experience invigorating mind-body healing with hands-on wellness services and evidence-based coping practices. Think of this as your mini-retreat from the day-to-day right from your home. Her Wellness Hub also provides well-being management that is divided into three parts addressing mental and physical.
Module 1 – Deep Dive Self-Connection
Personal empowerment
Diving deeper within self
Finding connection with others
Q&A with OB/Gyn fibroids specialist
Module 2 – Healing & Lifestyle Changes
Develop new coping methods
Skills to quiet anxiety attacks
Feeling safe again
Recovering approach & methods
Q&A with Reproductive Psychologist
Module 3 – Stress & Anxiety
Coping with stress and anxiety
Goal attainment and personal growth
Managing day-to-day
Identifying triggers
Attaining coping skills
Module 4 – Self-Compassion
Understanding how to be kinder to self and peer connection

Self-compassion and mindfulness

Dealing with isolation 

Making a connection and building relationships for understanding and support
Module 5 – Depression
Reaching out for help
Tools to manage depression and challenges
Practice self-care
Finding meaningful hobbies
Eat healthily
Q&A with Dietitian RN and Wellness coach
Module 6 – Maintaining Mental Health
Finances

Health care

Grief
PART II – Her Integrated Care Plan
The most comprehensive fibroid care plan for women who want medical and lifestyle therapy from an integrated care team of OB/Gyns and Registered Dietitian Nutritionist (RN) Health Wellness coaches.  Your 90-day personalized plan is customized for your individual needs. You will be assigned to a personal Registered Dietitian Health coach to help you manage your health goals and keep you on track for holistic optimum health.
The Why & Because of Labs for a Holistic Approach
With fibroids, our registered dietitian and certified functional nutritionist highly recommends iodine and halide testing as iodine deficiency can be a root cause of fibroids.
The hair tissue mineral analysis (HTMA) gives us a picture of how the body is responding to stress, how stressed the client is and the impact of that stress on the adrenal and thyroid glands. Not a diagnostic test.
The DNA test is fascinating and can tell us how able a person is to remove toxins, how they respond to exercise, their ability to lose weight, the likelihood of inflammation and oxidative stress, and gives us clues to hormone balance. It's not diagnostic; it's a blueprint that helps us know where to look and what to look for.
Her Dream Lab Panel
With this dream panel, the dietitian can assess mineral balance, possibility of infections (viral, bacterial, or parasite), inflammation, oxidative stress, acid/base balance, aerobic metabolism, connective tissue integrity, calcium balance, blood sugar issues, and more. Our dietitian can also collaborate and coordinate with your primary care physician within HIPAA compliance.
CBC w/diff
CMP – 14
Phosphorus
Uric acid
GGT
Iron panel with transferrin and ferritin
Hgb A1c
Fasting insulin
Homocysteine
C-reactive protein
RBC magnesium
Serum copper
Plasma zinc
Ceruloplasmin
Vitamin A
Vitamin D, 1, 25-dihydroxy
Vitamin D, 25-OH, Total
Full thyroid panel with antibodies
Iodine, bromide, chlorine, fluoride spot/24 hour urine
Additional Tests
DNA
HTMA (hair tissue mineral analysis)
PART III – Her Holistic Wellness Plan
We believe added value to tackle fibroid health comes through physical wellness to optimize health, healing and recovery. The support provided allows for connection, tangible live one-on-one coaching and counseling with measurable results and success for transformation. Our well-being programs provide a source that supports women's power, performance and success.
Week 1 Session
Create an Ultimate Healthy Vision
Break vision down into a 3-month or 6-month goal. Break a 3-month or 6-month goal into 3 smaller goals, work towards these 3 goals weekly and modify as necessary.

Identify intrinsic motivators, stages of change, and potential barriers.
Clients will receive nutrition plans from RD and/or physicians, will implement them according to RD/physician guidelines. If the client does not receive a diet plan, will take the client through the Transformational Nutrition Coaching protocol.
Homework: Take Four Tendencies quiz and VIA Signature Strengths quiz to further identify personality strengths and how each client responds to internal/external expectations.
Week 2 Session
Management of Events and Progress
Discuss Four Tendencies and VIA Signature Strengths.
Creating ways clients can infuse their strongest skills into a care plan to build confidence and ensure success.
Provide health resources and behavior change techniques as necessary and as they relate to the core of fibroids management.
Emotional regulation techniques as well as hypnotic techniques for anxiety and/or pain reduction.
Week 3 Session
Nutrition, Mindfulness & Stress Management
Begin a daily practice and incorporate gratitude/mindfulness – this daily practice helps to build consistency, self-trust and strengthen the neurology to support positive thinking. This is accompanied by a "savoring and gratitude journal" (Savoring and keeping track of the great moments in their lives).
Explore social connection – how can the client build social support and networks to promote emotional well-being.
Provide health resources and behavior change techniques as necessary as they relate to managing fibroids.
Week 4 Session
Halfway-Point Vision, Long-term & Short-Term Goals
Review vision: change or stay the same? What are long-term and short-term goals, making modifications as necessary

.

Discuss daily practice and "savoring and gratitude journal"

.

Provide health resources and behavior change techniques as necessary and as they relate to the core curriculum in Raising HER Consciousness of Fibroids

.

Finalized resources may range from diet, sleep, exercise and emotional regulation techniques as well as hypnotic techniques for anxiety and/or pain reduction.
Additional Benefits Included with Your Program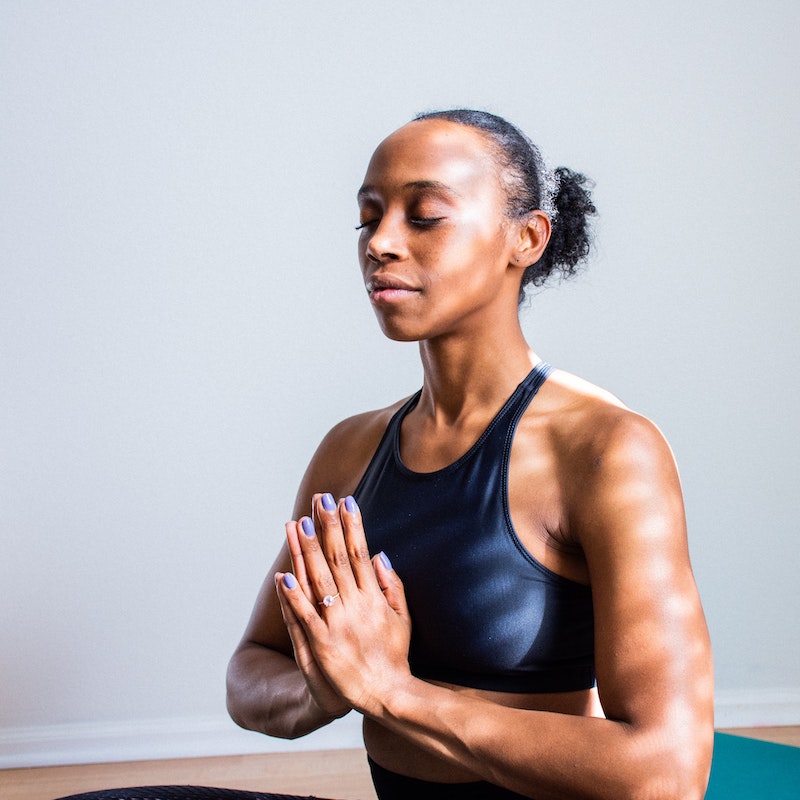 Virtual Exercise Classes
A pathway to improved well-being and resilience, we offer a virtual wellness platform providing access to live and on-demand complementary integrative health and wellness classes. Reduce stress, decrease anxiety, improve sleep and focus, and increase productivity.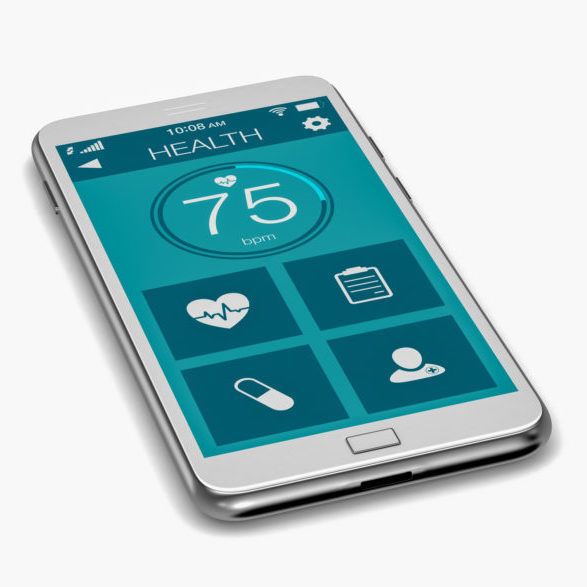 Your Health Tracker App
Participants receive access to a Health Tracker App which unlocks unlimited symptom & factor tracking and also provides other great features, such as photos or journal notes. This makes it easy to track diet and observe effects on symptoms and well-being.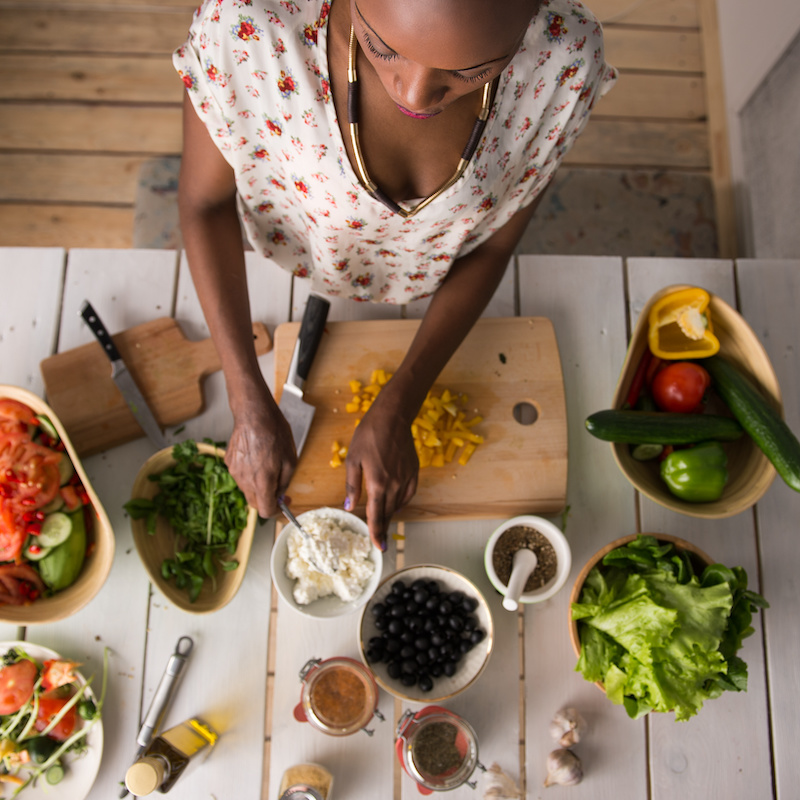 Live Cooking Classes
Live healthy cooking classes. Teaching the audience about healthy foods and meal choices partnered with a culinary Chef for a fun experience and interactive cooking class. All required ingredients are delivered directly to participants' homes.
Mental Stability

Weight fluctuations and body changes

Managing fatigue, mood changes, anxiety 

Increased energy 

Pain management

Promoting participant accountability in reaching health objectives

Implementing active listening and motivational interviewing techniques  

Discovering personal stories and limiting beliefs which may be hindering success

Fostering an attitude of self-compassion 

Develop solution-focused strategies

Cultivating a diet based around whole foods while minimizing/eliminating processed and inflammatory foods in order to support healthy hormones, blood sugar, energy and mood.
Tools and resources received by each participant 
Reviewed and discussed in group sessions with licensed gynecologists and psychologists
Worksheet
Healthcare tracker app
Ongoing community support
Access to Group support therapy
Access to free online live gym for meditation, yoga and strength, custom designed for women with fibroids
Blogs, newsletters and podcast
Live vegan cooking classes for better physical health
Our Internal Staff Support & Credentials
Meet your support team who will be helping you manage your health path. Our fibroids wellness program is staffed and facilitated by a licensed psychologist, medical OB/Gyn, dietitian and wellness health coaches who meet the educational and practice standards to be recognized as certified.
Annette Presley, aka the Hormone Handler, is a registered dietitian and certified functional nutritionist with over 30 years of experience, Theta Healer, Root Cause
Protocol Consultant, author, and creator of the Revived Body Solution. After discovering that the diet advice she learned as a dietitian was contributing to chronic disease, Annette changed course to learn about functional nutrition and nutrigenomics (how nutrition impacts genetic expression). She is passionate about helping women get to the root of their health issues so they can be the high-performing rockstar at work, and the fun, energetic person.
Ariana Rabette is a Certified Transformational Nutrition Coach, Certified NLP Life Coach, and Hypnotist. With a Bachelor's degree in Public Health, Ariana has 5 years of experience in the health and wellness industry primarily in health education and health promotion. She is skilled in health program design, implementation, and engagement with helping women optimize their health and realize self-empowerment by providing evidence-based resources and hands-on support.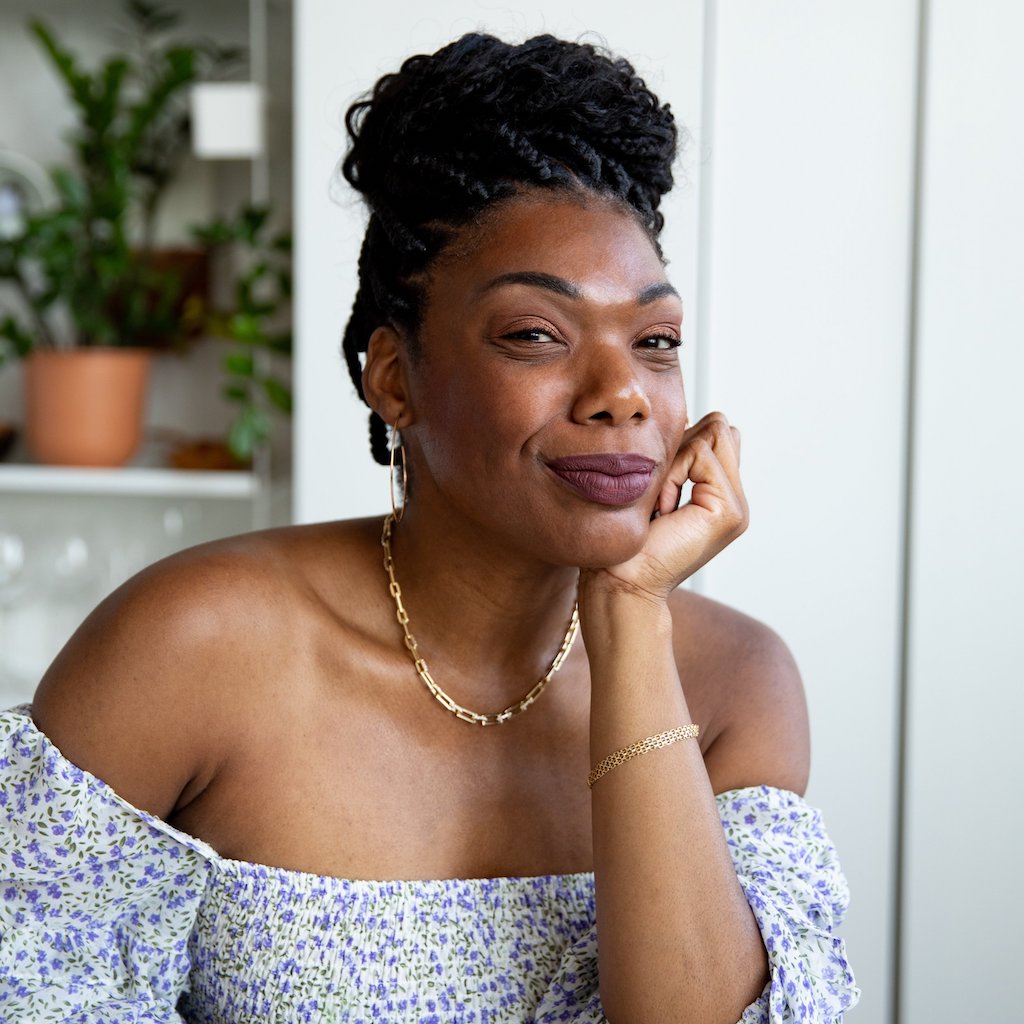 Minaa B. is an author, writer, founder, speaker, therapist (LMSW), and mental health educator with a Master's Degree in Social Work from New York University. With over ten years of clinical experience and a passion for both mental health and social justice, Minaa teaches people how to cultivate self-care and self-advocacy through the lens of boundaries and community-care. Minaa believes in the power of community-oriented healing as an emotional wellness practice that helps us understand how our relationships with others enable us to deepen the relationship we have with ourselves.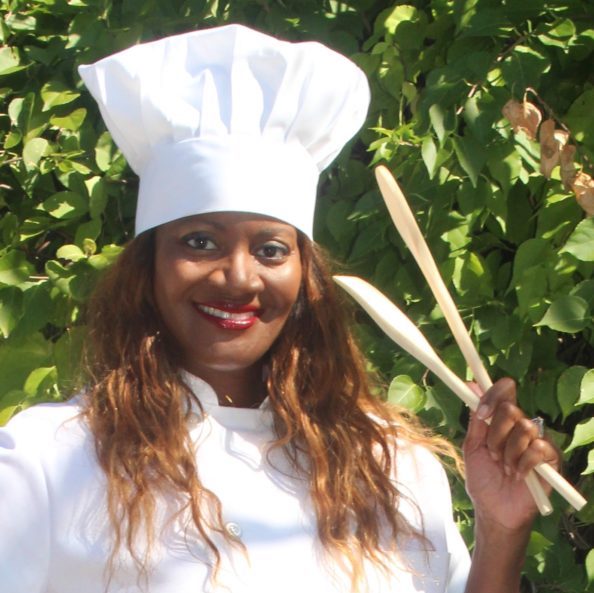 Chef Angela-Michelle is an International Culinary Expert who travels the globe in search of good food, true culture, and amazing spices. She has 10+ years experience as a Virtual Chef. She's also a cookbook author, hosts her own TV show, operates her cooking school, and is the owner and CEO of Culinary Kisses. Being the world's 1st Virtual Chef has allowed Chef Angela-Michelle to master the unique art of virtually cooking and baking with a multitude of people across the globe before it was a popular pastime.