In the early part of 2017, I had a mammogram which came back with concerns and abnormalities. I recall crying, worrying, stressing for three days, literally waiting for the results of the further testing I had done. As it turned out, everything was normal, and the doctor suggested a repeat mammogram in six months.
In the summer of 2017, I followed the doctor's order and repeated the mammogram. This time a biopsy was recommended due to atypical cell growth. That wasn't the best news. The night before getting the call with my biopsy results, I had gone out dancing and had a marvelous night. The call came in, which stated the biopsy revealed cancer (DCIS or Ductal Carcinoma in Situ, grade intermediate to high, stage 0). 
I was still healing from a previous surgery, a tumor removal of liposarcoma, a rare cancer that arises deep in soft tissue. This surgery gave me a totally different perspective on life and about life. I have always been a very optimistic kind of chick but having the liposarcoma cancer diagnosis and removal of the tumor shifted my mindset completely. 
I now had to determine what I was going to do. Was I going to throw in the towel, give up or rejoice? Well, I chose the latter. I want you to always choose the latter when life's adversities knock on your front door. Yes, it may be difficult. I truly understand that, but I can also tell you that your daily conscious effort to rejoice will keep you in peace. I became even more optimistic and started living my life unapologetically, bolder, and in a constant state of rejoicing.
I had a lumpectomy with surgical removal of the atypical cells. I then underwent 30 rounds of radiation treatment on my breast. I created a calendar for myself which kept me determined, inspired, and happier. Every day after treatment, I had my chart to come home to and mark off a day of completing radiation which also signified I was getting closer to finishing. The doctor indicated that during my radiation treatment, I may feel a little tired. I made a vow to myself to exercise for 15-30 minutes every day I had treatment to combat that symptom. I stuck to my vow.
Make the commitment with me to rejoice daily no matter what.
I want to share a very pertinent piece of information with you. What kept me happier, what kept my peace of mind, what kept me from not worrying was my mantra: "I'm Living the Life Out of Life!"
That year gave me a greater appreciation for life, for living. The best medicine for life's challenges is to always feed your mind positive affirmations, such as:
I am healed

I am at peace

I am going to live a life with lots of vitality

I am grateful

I am stress-free

I am not going to worry
When you have a positive-thinking mindset and speak "life" over your life, amazing, supernatural miracles begin to happen. Always remember to stay determined, keep focused on that healing power, and know that God does not make mistakes. Turn that storm into a beautiful story and bless the lives of others with it!
Our Her Nexx Chapter Community invites you to join us where women are connecting with each other's stories, exploring different experiences, and transforming ideas.
The Future of Connection for Women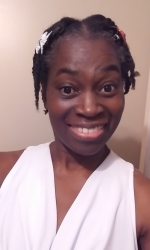 Latest posts by Tracy Smalls
(see all)
Follow us: