As this is Women's History Month, I was asked to write an entry on a woman I admired. I thought, "Just one?" and "Does she need to be an historical figure?" I googled "unsung females," "women warriors," "cool chicks," "invisible women" and many more.  
Women I considered writing about included:
Women business leaders:   
Janet Yellen, United States Secretary of the Treasury
Meg Whitman, former CEO of Quibi, Hewlett Packard and eBay
Sara Blakely, entrepreneur and Founder of Spanx
Jane Fraser, CEO of Citigroup
Deanna Mulligan, Board Chair and former CEO of Guardian Life Insurance
Why: Breaking the glass ceiling and showing the world who's boss.
Women activists:
Stacey Abrams, Founder, Fair Fight Action, former Georgia gubernatorial candidate
Rep. Katie Porter (D-California)
Rep. Alexandria Ocasio Cortez (D-New York)
Susan B. Anthony, women's rights activist  
Betty Friedan, author, The Feminine Mystique
Why: Speaking truth to power.
Women scientists:
Marie Curie, physicist and chemist, 1903 and 1911 Nobel Prize winner
Katherine Johnson, NASA research mathematician
Tiera Guinn, NASA aerospace engineer
Jane Goodall, primate scientist 
Jennifer Doudna, genetic engineer, 2020 Nobel Prize winner
Why: Pursuing curiosity beyond limits.
Women comics: 
Lucille Ball, actress, producer, I Love Lucy
Tracey Ullman, actress, writer, producer, The Tracey Ullman Show
Carol Burnett, comedienne, The Carol Burnett Show
Melissa McCarthy, actress, Mike & Molly, Bridesmaids, Can You Ever Forgive Me?
Kate McKinnon, Saturday Night Live comedienne
Why: Making us laugh, especially at ourselves. There is real honesty, pain and love in comedy.
Women warriors:
Harriet Tubman, Civil War, abolitionist
Clara Barton, Civil War 
Mary Hays, a.k.a. Molly Pitcher, Revolutionary War
Joan of Arc, Hundred Years' War
Andrea Hollen, first female graduate of West Point
Why: These ladies fought for freedom. How can you not admire them? They show what true bravery is. Fighting for what they believe in, while fighting for the right to do just that.
There truly are so many, many more women in history and in our current day that merit celebration, adulation and emulation. I cannot possibly compile a comprehensive list.  
What I do know is this: Women have contributed mightily to our society and culture, including women who have become famous and women who have not. In our pedestrian, everyday lives, women make a difference to those around them, often unnoticed and uncelebrated. It's high time we celebrated our own contributions. That requires a regular practice of not minimizing our efforts, not making ourselves small, not remaining silent and not being content with what is. 
In celebrating Women's History Month as a way to lift all our voices, we are not just honoring ourselves, but contributing to a fuller expression of our society, for without the contributions of women, we simply cannot exist as a people. What we are doing, then, is profound: We are allowing our societies, our families and ourselves to become whole.
Our Her Nexx Chapter Community invites you to join us where women are connecting with each other's stories, exploring different experiences, and transforming ideas.
The Future of Connection for Women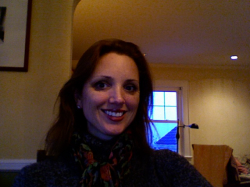 Latest posts by Lauren Mullen
(see all)
Follow us: