"Travel opens your heart, broadens your mind and fills your life with stories to tell." – Paula Bendfeldt
August stands for American Adventures Month – and just in time for the end of summer, too! The celebration of venturing across America was founded by explorer and public speaker Peter Kulkkula. Kulkkula had a mission to encourage people to celebrate, appreciate, and explore these United States. 
You can celebrate this month by vacationing or celebrating the many wonders America has to offer. We often get caught up in our day-to-day life that we forget to appreciate all the amazing activities and beautiful scenery right in our own backyard. I used to always plan dream vacations to foreign countries without giving this amazing country a chance. Many adventures are right at our fingertips – all we have to do is take the initiative to explore! 
So, where do we start? The best way to celebrate is to research a place to venture, whether by yourself or with your family. You can look into nearby national forests, state parks, and public wilderness areas if you want scenery options. The National Park Service (NPS) is a great tool that allows you to explore over 400 national parks and forests throughout America while narrowing them down by state. Lakes, rivers, and oceans are also there to discover. You can have some fun in the sand or dive into the vast waters with activities like kayaking, skiing, fishing, boating, surfing, and so much more. If you want to travel, many popular landmarks provide historical knowledge and an atmosphere that leaves you with an everlasting memory of the country.  
Have you been on a road trip lately? You can take the road trip of a lifetime by traveling through 50 of America's breathtaking states. America's fully mapped out road trip travels through one prominent destination spot in every state, and it only takes roughly nine days!
Here is my list of the top 10 places to experience in America:
1. Grand Canyon National Park – Arizona
The Grand Canyon is 277 miles long and is easily one of the most spectacular views in the nation. You can also experience thrilling trails like the South Rim or Bright Angel and live life on the edge with the Grand Canyon Skywalk – a glass bridge over the main canyon!
2. Yellowstone National Park – Wyoming, Montana, and Idaho
Yellowstone offers miles of hiking trails filled with beautiful wildlife, geysers, rivers, forests, and hot springs.
3. Bar Harbor and Acadia National Park – Maine
A unique waterfront experience that includes dining, boating, and whale watching. You can relax in the comfort of Bar Harbor, then explore to your heart's content in Acadia National Park, where life becomes picturesque.
4. San Diego, San Francisco, and Hollywood – California
California is one of the top states to live in and travel to as it holds the iconic Hollywood sign and the Golden Gate Bridge as well as activities like the San Diego Zoo, SeaWorld, Legoland, and so much more.
5. New York City – New York
Commonly known as The Big Apple, New York City has many famous attractions, such as Times Square, Central Park, the Empire State Building, the 9/11 Memorial site, the Statue of Liberty, and a few quite extravagant museums.
6. Aspen – Colorado
Aspen is a great place to spend time outdoors. The breathtaking scenic view of the lush green mountains becomes a must to hike or cycle through! Aspen provides an adventure of a lifetime and is rated as one of the top places in the nation for cycling.
7. Everglades National Park – Florida
Besides the well-known Walt Disney World or Miami's skyline, Florida has much beauty to appreciate and behold. The Everglades National Park is a wetland preserve on more than a million acres. There are hundreds of species living within the Everglades, with some being threatened or endangered, and you can witness some of them with your naked eye.
8. Mount Rushmore – South Dakota
Mount Rushmore provides a monumental sight of American history intertwining within a mountainside. Here you will see a sculpture of four U.S. Presidents: Thomas Jefferson, George Washington, Theodore Roosevelt, and Abraham Lincoln forever chiseled into nature's grasp.
9. The French Quarter – Louisiana
The French Quarter has an aesthetic that you cannot pass up! Soak in New Orleans culture with a stride down Bourbon Street or by sitting down at many must-see courtyards.
10. Millennium Park – Chicago
Being a world-renowned urban venue, Millennium Park offers a striking landscape design that has appeared in many American films. The Park also has a garden sanctuary that relaxes your soul along with programs to keep you and the family endlessly entertained. 
More places to venture that are highly ranked in America are Yosemite National Park in California; Taos Pueblo in New Mexico; the Alamo in Texas; Lake Tahoe between California and Nevada; the Las Vegas Sign and The Strip in Nevada; Moab in Utah; Grand Teton National Park in Wyoming; Glacier National Park in Montana; and Zion National Park in Utah. 
Hopefully, these sparked some ideas for your own adventure. August is almost over, so get out there and explore the majestic lands of America! 
Remember to make memories and appreciate your adventure to the fullest. Stay safe with first aid kits, and make sure to bring extra water and healthy snacks! You never know how long a venture can last, so you should always be prepared with additional traveling items. Oh, and don't forget to snap, snap, snap a bunch of pictures to share with family and friends to encourage them to take their own adventure, too!
Her Nexx Chapter invites you to join our free Community where women from around the world are connecting with each other's stories, exploring different experiences, and transforming ideas.
The Future of Connection for Women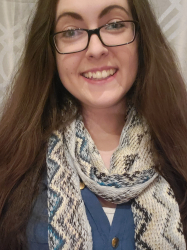 Latest posts by Jessica Weger
(see all)
Follow us: