Statistics predict a 40-percent increase in "elderly" Americans in the next 15 years, meaning this escalation presumes a massive increase in age-related neurological diseases including the dementias.    
Alzheimer's is a very specific form of dementia which involves 50-70% of all dementia cases. An educated guess reveals approximately 16 million Americans will battle Alzheimer's disease (AD) through its stages and decline.
General symptoms involve the loss of cognitive functioning, which means the person has difficulties thinking, remembering and reasoning. The next injustice often becomes a progression that will interfere with a person's daily activities and life. People experience a loss of memory and language skills along with limited problem-solving, self-management and the ability to pay attention. It begins slowly in a manner similar to so many other afflictions of an aging body. The patients will suffer from reduced memory, but sadly can also become physically ill and often violent. 
Beyond seeing our loved ones become unable to perform what we consider simple daily tasks and recognizing people, places and things, an additional burden includes finding the wherewithal to care for people with AD. The cost goes beyond the financial burden and can bring the strongest among us to physical and mental exhaustion.
When Loretta Woodward Veney came face-to-face with the horrors of AD she sprang into action to offer help and reassurance to caregivers and to teach people what to expect. Her first book, Being My Mom's Mom, published in 2014, gives the reader insight into the disease progression and coping methods to help through the hours, days and months of being weighed down in this journey. Her second book, Refreshment for the Caregiver's Spirit, provides assistance for people living with the daily exhaustion of caring for someone with AD.  And she criss-crosses the country with her personal message to people in need.
As Loretta explains, "I also offer hope that loving relationships with dementia sufferers can continue, even in the realization that the past is forgotten, and the future is the present."
For more information on Loretta Woodward Veney, please visit https://lorettaveney.com/
Our Her Nexx Chapter Community invites you to join us where women are connecting with each other's stories, exploring different experiences, and transforming ideas.
The Future of Connection for Women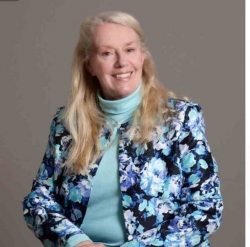 Latest posts by Grace Aspinall (

see all

)

 
Follow us: