September is finally here!
Labor Day has come and gone and the cool, crisp weather signals that the end of summer is near. Here at Her Nexx Chapter, the arrival of the fall season brings with it more than warm sweaters and pumpkin-flavored drinks— it announces that North Texas Giving Day (NTGD) is upon us! 
Anticipation and excitement abound as we prepare for the biggest community-wide giving event in the country. This year marks the organization's second time participating in NTGD, and we are delighted to take this opportunity, once again, to make a difference in the lives of women. 
So what is North Texas Giving Day? This 18-hour online giving event is designed to empower every person to give back to their community by supporting local nonprofits and causes they care about in one easy-to-use platform. Since its inception in 2009, the event has raised over $290 million and helped fund countless programs, thus allowing local nonprofits to transform the lives of people within the community. This year, the "18-hour giving extravaganza" is scheduled to take place on Thursday, September 17, with an early giving period ranging from September 1 to September 16, and the HNC team is ready!
"North Texas Giving Day gives us the ability to create our own movement, by providing the opportunity for women to connect, explore, and transform we are able to create real, lasting foundational change," says Co-Founder and Vice President of Workshop Facilitatores Angie Grimes. "We are so appreciative of our giving community, and we want to afford as many women as possible the chance to experience all that Her Nexx Chapter offers, that is why 100% of our proceeds are funded into scholarships. Won't you join our movement and fund the next wave of the Future of Connection for Women?"
Her Nexx Chapter was founded on the idea that women are worthy of opportunities. CEO/Founder Lady Chap and a team of powerful professional women sought to create a platform that could support other women by offering virtual programs intended to help them in all aspects of their lives. Nearly four years later, HNC has created a strong community of women that receive training and support in navigating budgeting, career paths, leadership, entrepreneurship, self-care, parenting, financial planning, and various other areas, thus giving them the opportunity to live their best lives.
HNC wants to give all women the chance to start over, properly equipping them with the tools necessary to start the next chapter of their lives. NTGD allows us to make this a reality for several women who otherwise could not afford to participate.  
"Last year, through our first fundraising effort with NTGD, we were able to raise enough to provide mentoring scholarships for 20 women," Lady Chap says. "We were so grateful for the platform NTGD created and how our own HNC volunteers' FUNdraising pages had an impact as well."
We need your help sponsoring memberships for women who cannot afford to participate in these life-altering programs! Your contribution could give a woman the resources she needs to enrich her life, enhance her possibilities, and—perhaps most importantly—grow. Now more than ever, we need your help in giving her a fair, equal chance. 
We appreciate your support and thank you in advance for helping us give women opportunities to elevate them to their next chapter. You can donate to HNC through the NTGD platform here!
"This year we hope to be able to raise $10,000 in order to give women training and mentoring with our Workshop Facilitatores through even more scholarships," says Lady Chap. "Her Nexx Chapter had a great first year with NTGD, and we're expecting an even better one this year!" 
Our Her Nexx Chapter Community invites you to join us where women are connecting with each other's stories, exploring different experiences, and transforming ideas.
The Future of Connection for Women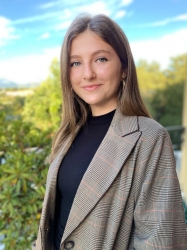 Latest posts by Maria Belen Iturralde
(see all)
Follow us: