In June of 1968, at the height of the civil rights movement, Congressman George E. Brown approached Congress with the idea of celebrating what was then known as "National Hispanic Heritage Week," seeking to recognize the Hispanic community's pivotal role in shaping American society and history. Brown's bill was successful and arrived at President Lyndon B. Johnson's desk on the cusp of autumn of the same year, where he signed it saying, "The people of Hispanic descent are the heirs of missionaries, captains, soldiers, and farmers who were motivated by a young spirit of adventure, and a desire to settle freely in free land. This heritage is ours." 
Today, over 50 years later, President Johnson's words are perhaps more relevant than ever, and we find ourselves celebrating National Hispanic Heritage Month, a month-long festivity spanning from September 15 to October 15 that honors our brothers and sisters of Hispanic descent and their role in the nation's collective history. 
Although this year's events were less about music festivals, dance performances, or gallery exhibits and more about virtual gatherings, the essence of the celebration remains powerful and relevant. As this year's celebration concludes, we stop to honor some of the great Hispanic and Latinx women of our time. 
We celebrate, for instance, Alexandria Ocasio-Cortez, who made history as the youngest woman to serve in Congress and who strives to represent the Latinx community in the political sphere with unrelenting zeal and passion. We celebrate Rita Moreno, the multi-award winning Latinx actress, who, at 88, continues to represent her community in the arts and entertainment realm. We celebrate Sonia Sotomayor, the first Latina Justice in the Supreme Court. We celebrate Julia Alvarez, the Dominican- American author who used her gift for storytelling to share the struggles that come with learning to navigate a multicultural identity. 
Mostly, however, we celebrate the millions of Latinas whose daily acts of bravery and kindness—however small—have sown seeds of courage in the hearts of other women and girls, thus empowering them to reach their full potential.
For generations, Latinas have been a vital part of American society, adding their own colorful patch to the country's vastly diverse cultural fabric. As we celebrate these women who continue to inspire us, we reflect upon the beauty and importance of diversity and how it continues to enrich our society today. 
Each year, from September 15 to October 15, we engage in a collective celebration of the great achievements of the Latinx community. Let us continue to celebrate those who ceaselessly seek to lift and inspire others.
¡Felicidades a la comunidad Latina!
Our Her Nexx Chapter Community invites you to join us where women are connecting with each other's stories, exploring different experiences, and transforming ideas.
The Future of Connection for Women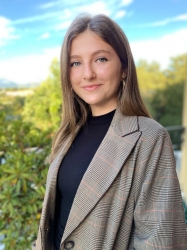 Latest posts by Maria Belen Iturralde
(see all)
Follow us: