Every year, come November, Americans across the country brave long flights and unsettlingly heavy traffic to convene in one same time and place with their families. They are fully cognizant that the hassle of cross-country travel will be worthwhile once they're sitting at the table, opposite their loved ones, with a meticulously prepared feast resting regally between them.
This year, as the subtle elegance of autumn sets in, many will be celebrating the holiday from the confines of their own home. Zoom parties might replace gatherings, and the words "social distancing" (a phrase so commonly used this year, it was a contender for Collins English Dictionary 2020 Word of the Year) might be mentioned on more than one invitation. Still, the sentiment of the holiday remains intact.
We have come to learn that even here, in the midst of uncertainty and chaos, there is room for gratitude. The words of Ella Wheeler Wilcox seem especially befitting of this year's somewhat unconventional Thanksgiving:
We walk on starry fields of white 
And do not see the daisies; 
For blessings common in our sight 
We rarely offer praises. 
We sigh for some supreme delight 
To crown our lives with splendor, 
And quite ignore our daily store 
Of pleasures sweet and tender.
We ought to make the moments notes 
Of happy, glad Thanksgiving; 
The hours and days a silent phrase 
Of music we are living. 
And so the theme should swell and grow 
As weeks and months pass o'er us, 
And rise sublime at this good time, 
A grand Thanksgiving chorus. 
This year has reminded us just how important it is to appreciate the small things in life (all those things we claimed to be too busy to notice)— the tight embraces we so often took for granted, the sharing of meals in crowded restaurants, the seemingly simple visits to parents and grandparents, the meetings held at bustling coffee shops, the offices filled with friendly banter.
And so, this year, as we welcome the soft embrace of autumn, let us appreciate the bewitching beauty of everyday life. Let this be the point in our lives where we deliberately choose to notice all the blessings, warmth and simple pleasures that come our way every single day or, as Ms. Wheeler Wilcox puts it, the point where we walk on those starry fields of white and consciously choose to see the daisies. 
For there is rarely a form of gratitude so genuine as that of being present and mindfully appreciating every moment.
This year, as we dig into lovingly prepared turkeys, or spoon stuffing onto our plates, or bite into scrumptious pieces of pie, let us be genuinely grateful and relish these moments of pure, unadulterated joy.
That, after all, is what Thanksgiving is all about.  
Our Her Nexx Chapter Community invites you to join us where women are connecting with each other's stories, exploring different experiences, and transforming ideas.
The Future of Connection for Women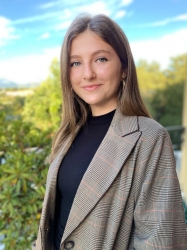 Latest posts by Maria Belen Iturralde
(see all)
Follow us: