There's something oddly comforting about the foods of our childhood that makes them unequivocally—and, arguably, perpetually—appealing to us. These memorable dishes become emblems of our early years, and we find ourselves seeking solace in their flavors, long after childhood. Our love for them is less about value or virtue and more about nostalgia and the inexplicable attachment we develop to that which, simply put, tastes like home
In my case, home tastes like the boxed mac and cheese (often of a dubious, deep yellow hue) that I would eat by carefully placing each individual macaroni in a different prong on my fork. It tastes like the spoonfuls of freshly made dulce de leche that would make my face and hands impossibly sticky and the crisp Sunday empanadas that would pour out clouds of steam with every bite. 
Most of all, however, it tastes like pizza.
Pizza seems to be faithfully present in most of my fondest memories and continues to grace the happiest moments of my life. And in this, I know I'm not alone. 
It thus comes as no surprise that there is a day dedicated to this food of happiness. Every year since 2000, come February 9th, Americans get to celebrate what is arguably one of the most glorious holidays on the calendar—National Pizza Day!
Pizza is itself an ode to the simple pleasures of life, the epitome of comfort and balance, the bridge between simplicity and elegance, the unfailing companion.
In its purest form, it's a collection of simple ingredients—a base of chewy, crackly dough, a luscious pouring of tomato sauce, a tempting sprinkling of cheese—and yet so much more than the sum of its parts. 
It's the first date icebreaker, the 2:00 a.m. dorm-room staple, the indispensable family movie night favorite, the universal late-night craving, the reliable mood-lifter on long nights at the office, the trustworthy conversation-starter. No matter what the occasion, time or place, pizza generously offers something for everyone.
For pizza purists, there is nothing like a classic Neapolitan Margherita. This staple is composed of a soft, pillowy crust, a thin layer of marinara, snow-white pools of fior di latte, a few (vitally important) leaves of basil and a delicate drizzle of olive oil. For Chicagoans, the perfect slice comes from the iconic deep-dish pie full of thick, scrumptious layers of cheese and sauce. For New Yorkers, it's the quintessential slice at Joe's, or the one from Lombardi's (commonly believed to be the first pizzeria in America) or, more recently, the inventive pies at Brooklyn's Roberta's. For many others—and to the horror of stringent pizza purists—the perfect slice comes in a cardboard box that holds thick slices of dough doused in a rich tomato sauce and generously coated with mozzarella and crisp-edged slices of pepperoni. 
However, no matter where we come from, or whether we choose to top our pizzas with pepperoni or basil, or delicate films of prosciutto or nothing at all, we are all united by our shared love of pizza, a food that is so wonderfully egalitarian, it has swiftly managed to transcend all kinds of cultural and social barriers. Regardless of our background, or our stance on debatable issues or our political leanings, many of us can easily agree that there is nothing quite like the simple and ever-so-ephemeral pleasure of enjoying a slice of pizza.
Still, like almost everything else, it doesn't come without its controversies and its plethora of contentious questions. Does pineapple belong on pizza? Was it invented by the Italians or the Greeks? Who really brought it to the U.S.? What's the best pizza in New York? In Chicago? 
These queries have fueled as many impassioned arguments as any other contentious issue, but they're quickly forgotten when a pizza arrives—simple, balanced, perfect. The animosity between pizza purists and those simply seeking to have a good meal is dissolved with the first bite of chewy dough, tomato sauce and silky-smooth cheese. 
And so, ease replaces trouble, coziness replaces unpleasantness and joy replaces worry. 
And just like that, all is right with the world. 
Our Her Nexx Chapter Community invites you to join us where women are connecting with each other's stories, exploring different experiences, and transforming ideas.
The Future of Connection for Women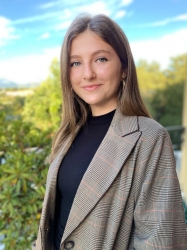 Latest posts by Maria Belen Iturralde
(see all)
Follow us: