There's always a lot of love associated with February, but it's also a month dedicated to the people who love the business and buildings devoted to the reading, housing, organizing, studying, and otherwise loving books. It's National Library Lover's Month!
And according to The Washington Post: "Banish any thought of the library as a place to pick up books, return them, repeat. Certainly, it's good — great — for that, but libraries also are community hubs, those rare places where all are welcome, without cost, to learn, have fun and tap into valuable resources. Even a pandemic can't change that."
And these people know what's what! Librarians aren't just a friendly face to assist with checking out a book if the computers aren't working. They have an advanced degree in Library Science. It might look easy because they know their way around, but each one embodies knowledge, and they serve the public by putting their education to use. The institutions themselves contain newspapers, magazines and periodicals, as well as microfiche of local newspapers reaching far back into antiquity.
Pre-pandemic libraries featured classrooms and lecture halls designed for people to teach courses, conduct meetings, and gather for a variety of reasons. These rooms still have many uses during the COVID crisis including providing Coronavirus testing and vaccinations.  
During the pandemic libraries have not deserted the communities they serve. Just to the west of Washington, DC is Arlington County, Virginia, where the libraries in this area created a series of conversations with authors which were streamed on Facebook Live and YouTube, and they were free.  They chose the theme "Food for Thought" and besides featuring renowned chefs and bakers, they hosted a "cookie bookie contest" which they describe as asking "bookish bakers to make edible treats inspired by a favorite author or character." Also, on the third Thursday of each month they host a virtual craft-making session known as CrafTEA where participants pick up free craft kits to work along with the online presentations.  
The District of Columbia Public Library offers a university-level class where online users take courses at their own pace, and Brainfuse HelpNow provides live tutoring. They also offer a video stream platform giving users access to more than 30,000 classic and contemporary films. Adults with a library card can watch six videos a month and enroll in two great courses, which may offer piano lessons or mastering dog training within its expansive curriculum. Children also have unlimited access to a vast array of children's book titles.
Northern Virginia's Fairfax County Library system continues to loan books, videos, CDs, and their other offerings for cardholders who reserve items online, drive to the library where they call and ask for their reservations which are delivered out the front door to one of two available tables.  Thus, there is no direct person-to-person contact. In December they began a story time series, "One Community, Many Stories" where someone from the community will go live online to read a children's book reflecting their experiences, like being deaf or growing up Muslim. In January, the library offered kits packed with all the materials needed to learn a new skill, and they follow an instructional video or live stream on topics such as jewelry making, terrarium building and heat embossing.
The library once again provides an oasis in the desert of inactivity the pandemic has forced upon us. Kudos to all the staff who make life a little easier one book or one activity at a time.  
Our Her Nexx Chapter Community invites you to join us where women are connecting with each other's stories, exploring different experiences, and transforming ideas.
The Future of Connection for Women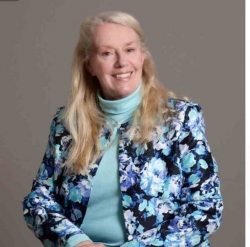 Latest posts by Grace Aspinall
(see all)
Follow us: