Two beagles live in my house, Lois Lane and Lana Lang. Correction. My husband and I live in a house owned by two beagles. Let's be truthful: They are the bosses, and they own us. Actually, when I call the vet I say, "This is Grace, and I'm owned by Lois and Lana." These two aren't as bossy as other beagles I've lived with, but they are pretty clear about what they want, and they will tell us off if we don't deliver. We may have opposable thumbs, but they have us wrapped around their little paws. 
Not all animals are as lucky as Lois and Lana. 
National Pet Day is April 11, and it's the day to remind people to help the animal shelters, adopt a rescue dog or cat, or donate to an animal rescue. We love our pets every day and National Pet Day reminds us of orphaned animals. When we can help animals without a home by visiting, fostering, or giving some time at a local shelter, the animals' health and appearance will improve, enhancing their opportunities for adoption.  
My friend Jennifer has volunteered at 4Paws Rescue Team and she explains, "I began about six months after losing a beloved pet on the advice of my GP, who said it would help my grief. It has been a hugely rewarding experience (though I did have to promise my husband I wouldn't bring everybody home)!"
Why do we feel so many strong emotions about our pets? True, they aren't people, but they want to be loved and give love in return. As my friend Marilu explains, "Each dog has its own fabulous intricate personality. Every dog captures a different part of one's heart." My friend Roger undoubtedly finds his pets to be an oasis in the desert of this pandemic as he says, "Our dogs pull us back from the brink when we have gone too long and forgotten about joy."
Lois and Lana were mother beagles at a puppy farm. After a year of owning us we can see improvement in their trust even if we can't touch Lana without her fear rearing its ugly head as she stares wide-eyed in fright. Lois will run and play, but she jumps out of her skin at the slightest noise. How can people do this to these lovely animals? Vicki says the cats in her house give her a deeper understanding of the gifts of life: "My Maine Coon Elijah was rescued from a bad situation about 15 years ago and right into my heart. Because of his size, presence, and wisdom he inspires me in my psychotherapy practice to cherish deep listening, sharing, and allowing others to lead."
National Pet Day serves as a reminder to purge our furever family member's toys in case they have become unsafe (too warn, sharp edges from chewing) and check that electrical or electronic sources of power are stored where the pet won't become entangled or hurt. Investigate collars and tags to ensure a good fit and confirm the information included on pieces of identification are accurate. It's a good time to check their medical records and make sure everything is up to date. For dog owners make sure dog licenses are current as many towns, cities, and counties impart a hefty fine if licenses are nonexistent or have expired. 
When seeking a loving pet, please look in animal shelters and with responsible breeders. The doggie in the window probably was born in a puppy farm and, sadly, from experience I can attest the interbreeding makes for unhealthy animals. Perhaps help in eliminating these ghastly breeding barns could become one of your causes. 
Pets give us so much and included in these gifts is unconditional love. Lois thinks my husband coming home or even walking downstairs after his shower is the best part of the day, and her whole-body wags and wiggles. It's such a joy to be a part of their lives. Let's do something special for the less fortunate animals without a furever home on National Pet Day. This, too, can bring such joy.
Our Her Nexx Chapter Community invites you to join us where women are connecting with each other's stories, exploring different experiences, and transforming ideas.
The Future of Connection for Women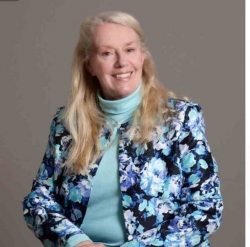 Latest posts by Grace Aspinall
(see all)
Follow us: