There is something about plant-based cuisine that makes it frequently misunderstood. Even today, nearly 40 years after the term "plant-based" was introduced to the world of nutritional science, there are people who wince at the idea of living a life that precludes them from eating meat on a regular basis, dismissing it as an extreme lifestyle or an ephemeral trend.
For the unyielding carnivore, the idea of embargoing meat-eating is not only challenging but unfathomable. Much of this can undoubtedly be attributed to the widespread confusion that surrounds vegan, vegetarian, and plant-based diets.
Countless publications, blogs, and organizations have thus taken to the internet to dispel the myths surrounding these subtly different diets. 
According to the Heart Foundation, a vegetarian diet is one that excludes meat, poultry, fish, and seafood, while a vegan diet is one that excludes all the aforementioned elements, as well as eggs and dairy.
Plant-based eating, on the other hand, is all about proportions. This diet does not fully exclude any particular foods, but instead revolves around choosing a proportionately larger amount of vegetables, fruits, nuts, legumes, beans, and a proportionately smaller amount of meats, dairy and eggs. Those following this lifestyle simply make a conscious effort to increase consumption of foods coming from plant sources and decrease those coming from animals.
The plant-based eating movement has taken the world by storm, inspiring countless home cooks, restaurateurs, and professional chefs. The results, I'm happy to report, have been nothing short of spectacular.
One need simply walk into Planta—the Miami and Toronto-based sanctuary for plant-based eaters—to see that this diet, far from being dull, is boundlessly tempting, irresistible and inviting. Waiters walk around the restaurant carrying plates with enticing concoctions, all trailing clouds of steam and leaving delectable smells in their wake. Towering burgers doused in truffle "queso," colorful sushi rolls covered with delicate slivers of avocado, glossy udon noodles, crispy gyozas, decadent tacos covered in cashew "crema," crispy nachos loaded with guacamole, pico de gallo and beans, and steaming pizzas sure to satisfy even the toughest critics make it hard for patrons to pick just one item off the menu.
Further north, Jajaja, New York City's Mexican plant-based eatery, provides customers with a similar conundrum. Its famous coconut "queso" quesadillas, guac burger, palm "carnitas," "fish" tacos or jackfruit tamale will leave one spoiled for choice and will surely merit a second visit. And, most likely, a third. 
The wealth of restaurants offering plant-based food across the globe is endless. Bar Verde, Matthew Kenney's Double Zero, the wildly popular fast food chain by Chloe, Jean-George's ABCV, Ottolenghi's Rovi, to name just a few, all offer inventive dishes with one common denominator: plants. They range from casual to fast to upscale, offer something for everyone and prove, once and for all, that plant-based eating is everything but restrictive, or bland or boring.
Cookbook authors have been thoroughly inspired, too. The inventive and mouthwatering recipes of the gastronomical world's most prominent names are widely recreated in kitchens around the world, converting countless skeptics and nonbelievers.
The fact is, plant-based diets are beneficial to both our bodies and the planet. 
Studies show that those who base their diets on plants are less likely to develop diabetes, cancer and heart disease. Switching to these eating patterns directly relates to clearer skin, increased energy, better digestion, lower incidence of brain fog and, yes, better moods.
Its impacts on the environment are equally rewarding.
Researchers at UCLA have found that producing one pound of beef requires between 2,000 and 8,000 gallons of water and a gallon of milk needs around 1,950. Shifting away from these products on a daily basis leads to a significant reduction in carbon emissions, waste, water consumption, greenhouse gas emissions and pollution.
Thus, it seems that this all comes down to the power of proportions. Changing the proportions of plant-based foods we consume on a regular basis can change our lives. And, yes, it can change the world.
Our Her Nexx Chapter Community invites you to join us where women are connecting with each other's stories, exploring different experiences, and transforming ideas.
The Future of Connection for Women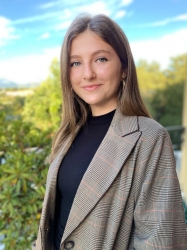 Latest posts by Maria Belen Iturralde
(see all)
Follow us: