When asked who her inspiration is, Tamiya Davis unashamedly named herself. "There's nothing wrong with being your own inspiration. I inspire myself because I know my struggles," she said.
And Tamiya has gone through a lot. On April 3, 1997, the Virginia Beach native experienced a crippling and life-altering accident. At 19, and a young mother too, Tamiya had to learn how to walk all over again. She had to grapple with her insecurities from her scars and disabilities. Regardless, Tamiya found her strength and continued to push to become the "Tamiya Davis Incorporated" she is now. 
As a "serial entrepreneur," Tamiya has been a longshoreman for 21 years, dabbled in the fashion industry, and now owns two companies – TD Capital Construction, a real estate developer, and TD Capital Services, an auto transportation service. 
"I love everything that I do," she shared. "I love building new homes because I feel like I'm building something for people to start a new life. I go into neighborhoods, and I help bring the equity up with the new houses I'm bringing." As for her car service, Tamiya has always been a car girl, having owned a Jaguar, Mercedes, Maserati, and a BMW. Being able to transport cars from auction to auction is quite cool for her. 
Her latest venture is becoming a book author. In 2019, she released her memoir, From Fatal to Fierce. She decided to chronicle her life story after being asked about her physical injuries for years. She believed that it was also her God-given duty to share with her fellow survivors how she overcame her depression and lack of self-esteem as well as how she battles PTSD. "There's so many people that have had to go through things, and they just need to know that somebody did it," she said.
"People go crazy over celebrities [but] nobody's perfect. The thing is they bleed like we bleed, sleep like we sleep, and eat like we eat," Tamiya said. She wrote her book to counter these narratives in media and inspire people to be great in who they are and in what they were provided. 
The road to fierceness begins with yourself, according to Tamiya. "You wake up with you. You go to sleep with you. You ride in the car with you. You take a shower with you. You eat with you. Everything that you do, it starts with you."
After all, fierceness means believing in yourself and not being ashamed of yourself. "It's not being afraid to fall, scrape up your knees, and just walk to the next CVS to get a Band-Aid," she said. "Whatever your fierce is, you have to live in that. You have to live in it and feel beautiful." 
Being fierce also means to be accountable in how you spend your time. "Everybody has 365 days. We all have 60 seconds in a minute. And at the end of the day, you can't be upset with anyone else [but yourself]. What you choose to do with your time makes you who you are, makes you comfortable in your skin, and makes you move to the next step. That makes you be able to live how you want to live." 
All these insights Tamiya gained from overcoming her accident. But her intentions for her book were not to shine a spotlight on herself but rather to make her readers feel as if they were walking the journey with her. This, as well as some memory issues from the accident, was why some of the chapters were written by her family members and friends. "It's a mixture of what went on from their perspectives and explanations of how I overcame it," she explained. 
"I always say that if I touched one person, I've done my job," Tamiya said. After publishing her book, many survivors reached out to tell Tamiya how they were inspired by her story. But the most touching book review she received was from her son and her family. 
Tamiya's son was an infant at the time of the accident and had experienced her struggles with her. "Me and my son pretty much learned how to walk together… He told me [after reading the book], 'Mom you really did it. You're really a strong woman.' It was his happiness for me that was beautiful to me."
Other family members shared how they enjoyed reading her journey – as if they weren't even there. For Tamiya Davis, to be fierce is not only to believe in yourself but also to surround yourself with the right people. "You better – and I mean that," she concluded.
Join Tamiya Davis on Tuesday, July 13 from 7-8 pm CT as she discusses her memoir, From Fatal to Fierce, her debut book which chronicles her journey of survival from her near-death experience, which left her disabled and disfigured, to the fierce, beautiful, and successful woman she is today. Register here. 
The Future of Connection for Women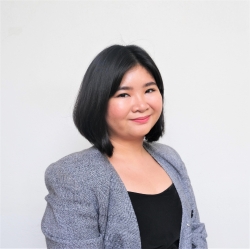 Latest posts by Anna Cayco
(see all)
Follow us: