Every year since 2013, on July 12th, people across the globe join in celebration of one of the greatest activists and human rights advocates of our time, Malala Yousafzai.  
Malala is known worldwide for her incessant devotion to girls' education. At 23, she is a United Nations Human Rights Prize recipient; one of Time magazine's most influential people; a Liberty Medal awardee; an Oxford University graduate; the first recipient of Pakistan's National Youth Peace Prize (now the National Malala Peace Prize); and the youngest Nobel Prize laureate. In addition to this, she wrote Malala's Magic Pencil (2017), co-authored I Am Malala: The Girl Who Stood Up for Education and Was Shot by the Taliban (2013) and that same year, co-founded the Malala Fund with her father—a Pakistani-born education activist—aimed at "working for a world where every girl can learn and lead." 
From a young age, Malala openly opposed Taliban-imposed restrictions on girls' education in her city by giving speeches, assisting in the creation of documentaries, making television appearances, and writing regular blog pieces for BBC Urdu. She continued to advocate for girls' education with unyielding courage and tenacity, and her efforts eventually gained widespread recognition country-wide.
In 2012, Malala recounts in the Fund's website, a masked gunman boarded her school bus and asked for her by name, after which he proceeded to shoot her. She was flown to Birmingham, England, where she stayed with her family and recovered. 
This, however, did not stop her. Where most would see fear, Malala saw opportunity. "I was determined to continue my fight," she wrote, "until every girl could go to school."
Today, girls' fight for equal access to education continues. According to UNESCO, an estimated 129 million girls are out of school worldwide. Poverty, lack of infrastructure, cultural barriers, violence, and child marriage all affect girls disproportionately when it comes to schooling.  
The Oxford Dictionary defines "gender equality" as "the state in which access to rights and opportunities is unaffected by gender." Today, on her birthday, we join Malala in crying out for a world in which opportunities are given to all, regardless of gender. 
Society has taken significant leaps forward in a variety of fields, but gender equality still has ample room for improvement. The fact is, gender inequality stifles development, and we will not progress until access to safety, education, freedom, the right to work, equality, opportunity, stability, health, autonomy, and human rights cease to be a male prerogative.
Eight years ago today, on her 16th birthday, Malala addressed the UN Youth Assembly and famously said, "One child, one teacher, one book and one pen can change the world. Education is the only solution."
This Malala Day let us celebrate one of the world's greatest, most valiant leaders, and let us hear her words echo around the globe reminding us, once more, that supporting girls' rights to education is supporting our collective development, equality, progress, safety, growth, and peace.

You can support Malala's fight for girls' education by donating to the Malala Fund, here.
Her Nexx Chapter invites you to join our free Community where women from around the world are connecting with each other's stories, exploring different experiences, and transforming ideas.
The Future of Connection for Women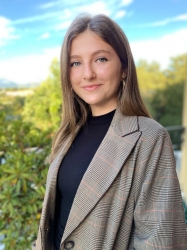 Latest posts by Maria Belen Iturralde
(see all)
Follow us: