It's that time of year again…Hispanic Heritage Month! The time to honor the Hispanics and Latinas that contribute to this country and society. The theme for this year of 2021 is hope. Esperanza. A fitting theme after the global challenges we have all been facing. Hope is a powerful drive, especially for those of us in the Hispanic and Latinx community. Hope in the future, for a better future for us all.
We may not be able to experience all of this wonderful month's festivities, but it does not impact the importance of celebrating it regardless. Be it in person, virtual, or simply at home with your family, everyone can join in and celebrate!
You can participate in Hispanic Heritage Month in a number of different ways. Find tutorials to learn how to cook a traditional meal from any Latin American culture such as Mexican, Colombian, Peruvian, Argentinian, or Venezuelan to name a few. Maybe listen to some of the amazing music that Latinx and Hispanic artists have made like Selena Quintanilla, Gloria Estefan, or Celia Cruz. Read a book by a Hispanic or Latinx author such as Isabel Allende, Sandra Cisneros, or Silvia Moreno-Garcia. Educate yourself in the struggle for a better and more accurate representation in areas like the media and government. Celebrate this month by learning about the diverse culture that Hispanics and Latinas bring. 
You can celebrate Hispanic Heritage Month simply by recognizing the Hispanics and Latinas who contribute so much to everyday life. Such as the janitors and custodians that keep schools, stores, and other workspaces clean. Or the construction workers, landscapers, and field hands that perform vigorous outdoor tasks. Even the Hispanic Latinx students who pursue higher education and careers. These are simply a few examples of the millions of Hispanics and Latinos that vitalize our society.
However you choose to recognize this month of Esperanza, have a celebration that is meaningful and memory-making!
Her Nexx Chapter invites you to join our free Community where women from around the world are connecting with each other's stories, exploring different experiences, and transforming ideas.
The Future of Connection for Women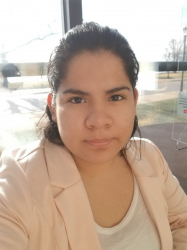 Latest posts by Daniela Avilez
(see all)
Follow us: