Tomorrow, September 22nd officially marks the beginning of autumn. 
Summer has come and gone, and life becomes inevitably cozier, backdropped with golden, amber-colored hues. Hot summer evenings are replaced by cool, crisp afternoons and sundresses are replaced by warm woolen sweaters. Words like cozy, mellow, hearty, and comforting float about in the cool autumn air, and there seems to be a welcome tenderness to everyday life.
It's a time for heartwarming stews, cozy evenings at home, candlelit dinners, and crisp afternoon strolls set to the sound of rustling leaves. It's also a time for apple crumble, all things pumpkin, sumptuousness, and nights spent reading by the hearth.
And it's a time for gratitude.
In the United States, giving thanks is commonly associated with the fourth Thursday in November, but there is one day each year when the whole world gathers to celebrate gratitude. Today people across the globe come together to recognize the power of being thankful. 
For several decades now, September 21st has officially marked World Gratitude Day. And it all started with one man. In 1965, over Thanksgiving dinner, Sri Chimnoy—an Indian meditation teacher and spiritual leader—suggested there be a day for the whole world to celebrate gratefulness. The celebration garnered attention and a substantial following until finally, in 1977, the United Nations Meditation Group requested it be formally recognized as a global celebration. 
According to Chinmoy's website, "The ideal of World Gratitude Day is to give people the opportunity to offer personal gratitude, but also to remember gratitude is an essential emotion that should be universally shared."
There is, quite simply, never a bad time to pause and think about something we're grateful for. Studies show, in fact, that practicing gratitude can make us happier, improve our sleep, strengthen our relationships, raise our self-esteem, and more.
A tried-and-true method for harnessing the power of gratefulness is keeping a gratitude journal. Writing down three to five things we're grateful for every single day can instantly improve our mood and help us lead a more meaningful, appreciative life. It helps us be aware of all those things that we are often too busy or too rushed to notice— the taste of our daily coffee, the morning light seeping into our bedrooms, discovering a new song, the kindness of a stranger, the pleasure of doing nothing, a warm shower, a good laugh, a favorite corner of our home…the possibilities are, quite literally, endless.
Related: 5 Steps to Developing Gratitude
When we stop and think about it, there are so many things—big and small—to be grateful for every single day. All we have to do is take a moment to notice them. 
Related: Staying Grateful All Year Long
As we welcome the softness of this new season, then, let us embrace the power of being grateful. Writer and cultural anthropologist Ralph Blum famously stated, "There is a calmness to a life lived in gratitude, a quiet joy." And so, as the leaves turn orange and autumn sets in, let us revel in the joy of all the beauty that surrounds us, of all the things that we do have, of all the people who care for us, of all the random moments of pure joy—however fleeting—that come our way throughout the course of any given day.
This year, as the world slowly recovers from a global pandemic, it seems especially fitting to say thank you. Today, on the 44th annual World Gratitude Day, let us offer this simple phrase to someone—a stranger, a family member, a healthcare worker, a friend—knowing that, in doing so, we are harnessing the power of gratitude to spread joy, to find solace, and to heal. 
Not sure how to start a gratitude journal? Check out a step-by-step guide on how to get started, here.
Need inspiration? Take a look at Barbara Ann Kipfer's joy-filled 14,000 Things to Be Happy About! 
Her Nexx Chapter invites you to join our free Community where women from around the world are connecting with each other's stories, exploring different experiences, and transforming ideas.
The Future of Connection for Women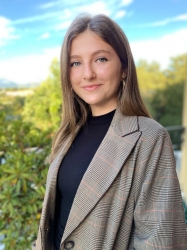 Latest posts by Maria Belen Iturralde
(see all)
Follow us: