I am a hairdresser's nightmare, and I changed nothing about my hairstyles during the salon shutdowns due to Covid. It's simple – I grow my hair for two years, put it in a ponytail, have my husband cut it off, and I donate it to "Children with Hair Loss." Thus far I've donated my hair five times. I prefer to have my husband cut my locks because he just cuts straight across, evens it out, and then I have a perfect style to grow back for two years when I will donate again. 
For many others it's a very different story. During the pandemic hair care changed. People would cut their own hair and possibly look for simpler solutions. I also cut my husband's hair when the barbers were closed; I did alright but it's a good thing he didn't get a close look at the back of his head when I was done!
My friend Marlys stopped coloring and cutting her hair. She explains, "My hair was originally above shoulder length, and I had colored it my original color of brown. But during the pandemic I simply let it become my natural color. This summer my hair went below my shoulders, and I found out that even though I am gray it has some other color in it also. So, I actually was rather excited and have no plans to dye it again. A couple of months ago I did go to the hairdresser and had it trimmed to shoulder length again. Since the virus is making a comeback, I plan on letting it grow again."
Hair stylist Jamie Simon operates out of two salons, Phenix Salon Suites in Bethesda, Maryland, and a space above Dupont Circle in Washington DC. She stated that older clients are beginning to try out their natural gray. "People are getting a chance to see what their gray really looks like, whether it's flattering or not."
My editor at Her Nexx Chapter, Suzanne, also let her hair grow during the pandemic. She'd stopped using any coloring several years ago, so her natural color was pleasing to her, and she was blessed with a natural wave. "I have a wave to my hair that was always doing its own thing, and I just let it go and grow. As time went on, my hair had grown past my shoulders, and I realized I hadn't worn it that long in almost 30 years. I'm wearing it longer to this day and still loving it. When the hair salon owner said I have 'wonderful curls,' I realized that letting it grow was probably not only healthier for my hair, but that it's now evolved into a style that works better for me!"
An article in The Washington Post offered suggestions to people who decide to address hair issues on their own. Both women and men can assess their hair in the mirror and considered the simplest and most doable solutions. Women often can merely trim their bangs and carefully snip off the split ends. Men can often get by with a few careful passes with a hair clipper. But it's important to remember that once it's cut off, it can't be put back! So cut gently and with care since one can always cut a bit more rather than suddenly react with, "Oh gosh! What have I done!"
My friend Judy had a super short cut, and it was always professionally styled until the pandemic hit. So, she let it grow. When I asked her about her new hairstyle, she replied, "Pandemic hair, huh? It just so happens that I'm getting my first trim in over a year tomorrow. Just a couple of inches. While it's hot I want enough hair cut so I can get it off my neck."
People adjust and have even preferred less professional attention during the pandemic in many parts of their lives. We order more take-out dinners rather than going out to dinner inside a restaurant. We wear masks in public buildings and often outdoors depending on the crowds or our personal preference. But we've adjusted to new and often more natural hairstyles because we had less choices in the matter. And for the most part, that appears to be working out just fine.
Her Nexx Chapter invites you to join our free Community where women from around the world are connecting with each other's stories, exploring different experiences, and transforming ideas.
The Future of Connection for Women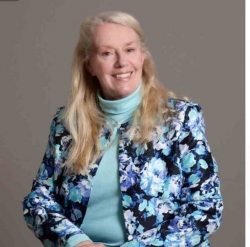 Latest posts by Grace Aspinall
(see all)
Follow us: