It's the beginning of fall and the holiday season will soon be upon us! Warm feelings are in the air as the days get chillier. Along with the cooling breeze come the autumn leaves. The perfect weather to gather around a friendly bonfire while roasting some marshmallows and drinking hot cider. If you haven't picked up on it, fall is one of my favorite seasons.
I, for one, love the culinary arts and baking. What better way to enjoy the autumn season than to indulge in some classic fall treats! The flavors that come to mind are pumpkin (of course), apples, and lots of cinnamon. So, without further ado, here are some of my favorite fall recipes.
I'm sure you all expected pumpkin pie to be first, but you can get that from anywhere nowadays. However, the pumpkin cake roll is my favorite pumpkin treat! It may be a bit challenging if you've never made a cake roll before, but it never hurts to try something new!
Sometimes, the simpler recipes have the best-tasting results! There sure are plenty of overtop apple pie recipes out there, but this old-fashioned recipe is simply delicious. You could also try this dairy-free and gluten-free Apple Crisp.
I love the smell and taste of cinnamon in the fall! So, in my opinion, these cinnamon rolls are perfect for the season. This recipe is not so hard, but it does take some time. However, the end result is definitely worth the wait!
4. Pumpkin Spiced Latte Cinnamon Rolls
A fun pumpkin twist on your classic Cinnamon Rolls. Although, in all honesty, I haven't tried making these…yet! They look so delicious that I have to try them soon!
Have fun experimenting and making these your own. Happy fall!
Her Nexx Chapter invites you to join our free Community where women from around the world are connecting with each other's stories, exploring different experiences, and transforming ideas.
The Future of Connection for Women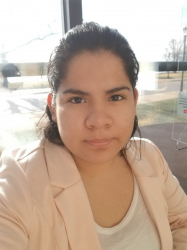 Latest posts by Daniela Avilez
(see all)
Follow us: