I've always considered myself a failure at cooking soup. I can't make chicken soup of any kind and my split pea soup looked like something out of a swamp – and it didn't taste any better. But I do have a couple of soup recipes which I've tweaked and modified, and I have to say they're pretty darn good. And the Jambalaya and Italian Wedding can actually be main meal courses so they're virtually stews. Perhaps add a salad and some French bread, and you've got dinner. 
My daughter Gayle's Guinness and Beef Stew (Pie) is just awesome so a big "thank you" to her for sharing it with us. 
The first recipe I'll share is Jambalaya Chili which won an award at a chili cookoff, but I combined the recipe with Jambalaya for a Mardi Gras party at church and one gentleman liked it so much he declared, "It takes a good southern to make Jambalaya this good." Oops. "Excuse me, I'm glad you like it, but I'm from Massachusetts." Here's the recipe and method. 
Jambalaya Chili 
This can be made in a very large pan on the stove or in a crock pot. I generally use the crock pot. But I sauté everything in a Dutch oven if I'm using the crock pot. 
Sauté
2 tablespoons olive oil 

2 cups chopped onion 

1 cup chopped green bell pepper 

1/2 cup chopped

celery

 

1 jalapeno pepper

1 green chili pepper
Combine:
1 lb. chicken breasts or thighs chopped
1 lb. Andouille sausage, sliced (other spicy sausage can be substituted)
1 tbsp. Zatarain's Creole spice 
Add to onion mixture and cook 5 minutes, stirring
Add and stir in
1 tbsp. Zatarain's Creole spice 

1 tbsp. mustard

1 tbsp. cumin

3 bay leaves 

1 tsp.

Worcestershire sauce

or liquid smoke
If using a crock pot, place all of this into it now and then continue. Otherwise, keep adding to the pot. 
Stir in
2 cans 8 oz. stewed or chopped tomatoes 

2 cups

chicken stock

2 16 oz. cans of pinto beans or slow cook dry beans overnight 
(make sure crock pot is filled with water or chicken stock)
Simmer 1 hour on low or cook in slow cooker for 4 hours
Check seasoning. 
Add 1½ cups cooked rice
Optional to add:  clams, shrimp, oysters or other seafood
Cook 15-30 minutes
Serve with grated cheese and chopped green onions
Italian Wedding Soup is really wonderful, and the most complicated part is making the mini meatballs. That takes time, but it is well worth it. So put on your favorite music and start mixing and rolling those meatballs! 
For the meatballs:
1/2 lb. lean ground beef

1/2 lb. ground pork

2 slices white bread, crumbled finely

1/4 cup chopped parsley

1 sprig fresh oregano, chopped

1/2 cup freshly grated parmesan cheese

1 large egg

1/2 tsp. salt

1/4 tsp. pepper

1 tbsp. olive oil
For the soup:
1 tbsp. olive oil

1 medium yellow onion, diced

1 large carrot, diced finely

2 stalks celery, diced finely

3 garlic cloves, minced

8 cups chicken broth

1 cup acini pasta or other small pasta

1 cup escarole, baby spinach OR kale, chopped
Instructions
Begin preparing the meatballs by adding all meatball ingredients except olive oil to a large bowl. Knead everything together with your hands. Pinch off small pieces and roll into balls.

In a large skillet over medium-high heat, heat the oil.

Add some of the meatballs to the pan, only as many as will fit without touching, and cook for 4-5 minutes, flipping halfway thru.

Cook remaining meatballs and set aside.

In a large soup pot over medium-high heat, heat 1 tbsp. oil and sauté onions, carrots, and celery until tender. Stir in minced garlic and cook for another 30 seconds.

Add the chicken broth to the pot and bring to a boil.

OR, Add everything cooked up to this point AND the meatballs to a crock pot and let cook for 4 or 6 hours.

Add pasta* and meatballs, reduce heat to medium, and cover. Cook for about 10-12 minutes.

Stir in spinach and let cook until spinach wilts, then season with salt and pepper to taste and serve with parmesan cheese.
* If the pasta is added uncooked, it will expand and might take up all the broth; this makes a thick stew. If the pasta is cooked first, it won't absorb as much of the broth, and you'll have a soup. To thicken, add more pasta. 
Guinness and Beef Stew from my daughter Gayle 
This is really one of my favorite dishes when I visit my daughter. I'm sure everyone will love it.
2 tsp olive oil

3 medium onions, sliced

200 g / 8 oz button mushrooms

1½ kg / 3½ lbs. lean braising steak, cubed

1 tbsp plain flour

350 ml / 12 fl oz Guinness

350 ml /12 fl oz beef stock

100 g /4 oz Stilton cheese

Salt and pepper

½ x 500 g /1 lb. pack puff pastry

25 g /1 oz butter, melted
Heat olive oil in a saucepan and add the onions and button mushrooms. Put the lid on and sweat over a low heat for about 10 minutes.

Set the saucepan of onions and mushrooms to the side.

Turn the heat up, select a large saucepan or Dutch oven and brown the braising steak all over. Do not overcrowd, and this will need to be done in several batches.

Sprinkle the flour over the beef and cook for two minutes or until the flour has coated all the meat and all the flour has absorbed the fat.

Carefully pour the Guinness and beef stock into the saucepan and bring to a boil while stirring constantly; add the onions and mushrooms to the pan, cover and simmer gently for 1 hour.

After 1 hour remove the lid and simmer for 40 minutes; this will allow some of the liquid to evaporate.

Check the beef to see how tender it is (it should not be chewy); cook another 20 minutes if the beef isn't tender enough.

Crumple the Stilton (including the rind) into the meat and, over a low heat, stir well until the cheese has melted, probably about 5 minutes.

Remove from heat and check the seasoning.

Set the oven to 200

o

C /400

o

F/ GM6

Roll the pastry out on a lightly floured surface to the thickness of about 5mm

Turn the pie plate upside down on the pastry and, using a sharp knife, cut around the rim allowing an extra 2.5 cm at the edge of the dish to allow the pastry to stick to the rim of the pie dish

Transfer the meat mixture to the pie dish; place the pastry over the dish and gently push down on the rim to seal the pastry

Using the blunt edge of a knife, gently push back the pastry around the edge of the rim using your thumb's width as an approximate measure of the distance between each knife strike

Carefully brush the pastry lid with melted butter

Place the completed dish on a baking sheet in the oven for about 20 minutes and bake until the pastry is golden brown
OR! Instead of making a pie, place small potatoes (any color) and diced carrots in the saucepan when adding the Guinness and beef stock; add frozen peas when the saucepan is uncovered and presto! It's a stew!
I hope you'll try all of these wonderful recipes. They all are plentiful enough to serve six and can be frozen if necessary. ENJOY!
Her Nexx Chapter invites you to join our free Community where women from around the world are connecting with each other's stories, exploring different experiences, and transforming ideas.
The Future of Connection for Women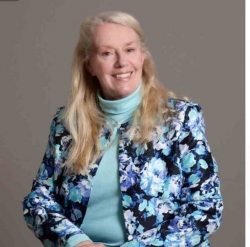 Latest posts by Grace Aspinall
(see all)
Follow us: