M.F.K. Fisher's The Gastronomical Me reads "… I still think that one of the pleasantest of all emotions is to know that I, I with my brain and my hands, have nourished my beloved few, that I have concocted a stew or a story, a rarity or a plain dish, to sustain them truly against the hungers of the world."
Decades later, her words remain as relevant as ever.
Cooking is one of the most wonderful ways in which we nourish ourselves and others. A recipe — a trusty, often-essential adviser during the cooking process — is thus no less remarkable. Whether it's written in hasty handwriting on a yellowish, stain-dotted piece of paper, printed on the glossy pages of a brand-new cookbook, or remembered solely through words spoken from one to another, a recipe is, in no small way, special.
Like most things, recipes rarely exist in isolation— they are influenced by things much less tangible than themselves. They are the product of tests, changes, time, culture, geography, family, ideas, society, history— at once an embodiment of our collective heritage and a testament to the implacable forces of evolution.
Each recipe, then, is much more than a collection of ingredients and directions. It is a kaleidoscopic compilation of stories, an anthology of personal anecdotes, a reservoir of lives lived and stories to be told. It is at once a blueprint and a blank canvas, a space perfectly suited for both learning and innovation.
It is, therefore, safe to say that cookbooks are not a mere stack of miscellaneous recipes bound together, but a thoughtfully curated treasure cove of tales to be told, truths to be uncovered, and adventures to be shared. It thus comes as no surprise that people began compiling recipes in books as early as the 4th or 5th century and that cookbooks — partly thanks to their artful determination to dodge digitalization's persistent push — continue to grace kitchen countertops across the globe today.
And so, during this National Cookbook Month, we stop to honor cookbooks and all the men, women and children, both amateurs and experts, who have had the courage to take on one of the recipes enclosed within — apron on, a glass of wine in hand — quietly relishing the thought of partaking in this invisible community that transcends borders and generations.
For anyone who has attempted to concoct a dish from the perennially famous Joy of Cooking, or Julia Child's masterpiece Mastering the Art of French Cooking, or any of Yotam Ottolenghi's works, or the notable Larousse Gastronomique or even The New York Times Cook Book will have instantly become part of something greater than themselves, regardless of whether their feat ended in triumph or frustration. The valiant cook ceases to be a lone individual and becomes part of a community, a storyline, a group bound together by one same common thread.
Because, in the words of Ms. Fisher, "There is a communion of more than our bodies when bread is broken and wine drunk." The act of eating goes beyond what is on the plate and is far greater than anything that can be quantified or measured. Its significance stretches across borders, cultures, and generations and we, in our home kitchens, have a pivotal role in this shared narrative.
And so, the humble cookbook, with all its hard-earned stains and note-filled margins, is not rendered obsolete with the passing of time, but made all the more special by it. As it trudges through the decades, and its wealth of information ceases to be news and becomes history, our societies — and dishes — become richer, more complex, more reflexive, and, yes, better nourished.
Her Nexx Chapter invites you to join our free Community where women from around the world are connecting with each other's stories, exploring different experiences, and transforming ideas.
The Future of Connection for Women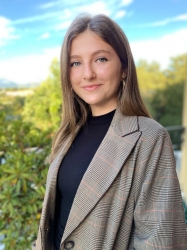 Latest posts by Maria Belen Iturralde
(see all)
Follow us: