Hello and Happy Fall! What with stores already rolling out Christmas decorations, this is a friendly reminder that we're still in fall. As excited as many of us may be for the holidays, let us not forget that we can still enjoy and bask in these chilly autumn afternoons. In fact, let us not skip over the lovely holiday that is Thanksgiving! With that said, it's the perfect time to get your home ready with the perfect fall decor (if you haven't already)!
The classic staple is pumpkins, of course, be it real or fake. I personally fell in love with this pumpkin-shaped serving dish from Target. It is so adorable and would look great at any Thanksgiving dinner. While we're on the subject, let's not forget Kohl's beautiful fall dinnerware.
There are so many items to choose from, but my favorites are the pumpkin serving bowl and this leaf-shaped server. There's also a pumpkin gravy boat that I find adorable, but perhaps that might be overdoing it on the pumpkins. Especially since I've only discussed dinnerware, I haven't even gotten to the actual home decor! Target has these adorable pumpkin-shaped candles that range from mini to large in size and the scents are divine: vanilla, pumpkin, apple and cinnamon. Of course, these aren't the only stores with adorable pumpkin decorations, but these were simply my favorites.
Maybe you're looking for more of a Pinterest vibe? Sunflowers have become increasingly popular with fall decor. Some sunflower placemats or a sunflower-themed table runner would look great. At my home, we have a centerpiece of sunflowers with cranberries, green leaves and wheat stalks as accents. Maple leaves are very classic and look great in centerpieces, woven together as wreaths, as placemats and table runners as well. Plaid patterns and designs are also very popular.
Placing fruit, vegetables, and, of course, pumpkins along the center of your table can create an interesting aesthetic, like a cornucopia. Candles, real and electric, are featured almost everywhere. They provide a nice accent, and they're typically nestled in black iron frame lamps or mason jars. It definitely helps to pick a color scheme. As I scrolled through Pinterest, white or orange color schemes were the most prevalent. I, for one, prefer a bit more color, like adding yellows and reds with some green or brown accents. If all this sounds overwhelming, feel free to take a more minimalist approach that doesn't involve all this crowding and layering.
Purchase your decor or assemble it yourself! A quick search on the web provides plenty of inspiration. Simply make your fall home decor yours and enjoy the remainder of this colorful season!
Her Nexx Chapter invites you to join our free Community where women from around the world are connecting with each other's stories, exploring different experiences, and transforming ideas.
The Future of Connection for Women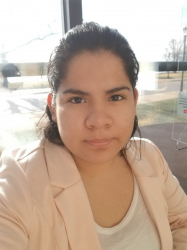 Latest posts by Daniela Avilez
(see all)
Follow us: