The days have gotten chillier, and the evenings grow darker. The wind blows harshly, cutting through coats and bones. The trees outside have been left bare. As the cold weather begins to set in, heart-warming holiday festivities have begun! What better way to enjoy the cold season than to sit down with a nice cup of hot cocoa? That is precisely what you should do this December 13 for it's National Cocoa Day!
People have celebrated cocoa for centuries! The cacao bean used to make chocolate could only be found in Mesoamerica as it could only grow near the equator. Ancient civilizations like the Aztec and Maya believed cacao to be a gift from their gods and used it in rituals, feasts, gifts for their warriors, and even as currency. Cocoa was an instant hit in Europe as well after the Spanish conquistadors came to colonize the present-day Americas. They learned to sweeten it, and eventually evolved the cacao bean into the chocolate and cocoa we know today.
But don't be fooled! Hot cocoa and hot chocolate are not the same (plus hot chocolate has its special day). While they both come from the same cacao bean, the end product depends on how it was processed; chocolate still contains the rich cocoa butter, but in cocoa, the cocoa butter has been extracted leaving only the powder.
Enough with the history lessons, though, let's move on to the good stuff – like drinking hot cocoa on National Cocoa Day! There are several different ways to make hot cocoa as well as places you can purchase it from. However, I think the most fun is when you make it yourself at home! Now I'm not saying to go purchase a cacao pod and make your own cocoa powder (you can go that extra mile if you'd like), I simply mean that instead of purchasing your hot cocoa, buy the ingredients to make it at home your way! Make it with milk, water, or maybe even non-dairy milk if you prefer. Have fun with what you mix into your drink – peppermint is always a classic way to go. Caramel, butterscotch, and toffee are a sweeter route to customizing your drink. Top it off with whipped cream or cinnamon or sprinkles or all of the above!
If it sounds like too much work, no worries! It's pretty easy to purchase hot cocoa from almost anywhere like a Starbucks or Dunkin'. Enjoy your cocoa however you'd like this National Cocoa Day.
Her Nexx Chapter invites you to join our free Community where women from around the world are connecting with each other's stories, exploring different experiences, and transforming ideas.
The Future of Connection for Women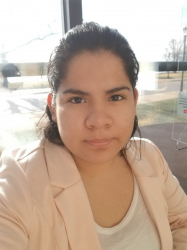 Latest posts by Daniela Avilez
(see all)
Follow us: