December 21, the day of the winter solstice, officially marked the beginning of wintertime, ushering in longer days, extended periods of sunlight, and what many cultures consider to be a welcome time of rebirth.  
As we move towards the end of another unusual year, we too welcome this time of healing and restoring, and there is nothing like the comfort of baking to bring warmth to our hearts and homes. Because of this, we have gathered five tried-and-tested recipes that have brought us joy in times when we've felt both cheery and blue, in hopes that they will warm your heart as well.
To all those celebrating the holiday season the way they usually do and to all those whose 2021 festivities wear an unfamiliar guise we say: Happy holidays and happy baking!
For those who love a project — Chocolate Babka
By Pretty. Simple. Sweet.
Babka is a wonderful, braided sweet bread hailing from Eastern Europe. It is a traditional Jewish dessert that was initially made from extra challah dough that was rolled up with different fillings. Originally filled with cinnamon but commonly made with chocolate, it has unsurprisingly become a favorite amongst many. Do you have some time on your hands? Make it at home! It is a wonderfully rewarding project that all family members will enjoy. One of the best parts about making babka is shaping it into the iconic braid, but if you've never done this before, no need to worry! If this seems like a daunting task, see Pretty. Simple. Sweet's step-by-step guide here! There is also a wonderful video with Edan Leshnick of New York's iconic Breads Bakery (who, incidentally, produces one of the most legendary babkas out there) that will guide you through every step of the way. Feel free to use the video's recipe too, depending on which ingredients you have at hand!
For those who love the classics — Gingerbread Cookies
By Gimme Some Oven
These gingerbread cookies are the ultimate crowd pleaser and a true feast for the senses! They are as beautiful as they are delicious, and they will fill your house with the most wonderfully festive scent. The dough is easy to make, filled with aromatic spices and comes together in no time. They are a treat both to indulge in and to make, and the decorating stage makes for a bit of family fun (or a lovely afternoon of self-care, too)!
For those who love cake — Apple Cinnamon Bundtlettes
By LeAnne Shor of Lion's Bread
This cake is sublime and will convert apple-cinnamon deniers into believers. It is the perfect blend of fruitiness, decadence, sweetness, and spice and is the dessert equivalent of warmth and comfort. As LeAnne says, it's full of "wintery spices" and sure to be a favorite in any household! It can be made into mini Bundt cakes or, with a little bit more patience, into one large cake. Either way, it's a triumph!
For the chocolate lover — Chocolate Crinkle Cookies
By Simply Recipes
These cookies are as chocolatey as it gets, and they basically scream Christmas. They are like little crackling snowballs of joy and are best eaten straight out of the oven. They are soft and brownie-like and go extraordinarily well with a cup of coffee or hot cocoa. They are also really simple to make and dairy-free!
For the one looking for something different this year — Ultimate Zucchini Bread
By Smitten Kitchen
This year has been all but conventional, why should your holiday baking be? This zucchini bread is astoundingly easy to make and comes together in one bowl. It is full of flavor, not overly sweet, and perfect for any time of day! The best way to eat it is lightly toasted in a pan with a dab of peanut butter, a dash of salt and a drizzle of honey. I have yet to meet a person who doesn't love this — give it a go!
We hope you find solace in these recipes and that they fill your heart with warmth and joy in what has been, for many of us, an unusual holiday season. The ritual of cooking together is, after all, a catalyst for the basic human need for connection, creativity, nourishment, and self-love. As we go through yet another year of unconventional holidays, we are reminded once again that the joy in celebrations is found not in what we have, but in who we're with. Here's to our loved ones, near and far! May we relish the moments shared together: the phone calls, the toasts, the meals, the laughs, the music and, yes, the baking.
Her Nexx Chapter invites you to join our free Community where women from around the world are connecting with each other's stories, exploring different experiences, and transforming ideas.
The Future of Connection for Women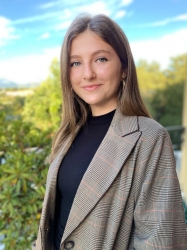 Latest posts by Maria Belen Iturralde
(see all)
Follow us: