Navigating our own healthcare can be daunting at any time. If you have a serious illness, it can be overwhelming. With the extra stress on healthcare due to Covid, things are even more complex. How do we manage?
My friend Judy, out of necessity, has learned a few tools along the way. As she helped support her husband through a long and difficult pursuit to have his cancer diagnosed, she found that to get good healthcare in a timely fashion you need to play an active part of your healthcare team. The subsequent journey of her husband's treatment and other issues that arose made it essential to stay on top of many different things. She learned a lot from these experiences and likes sharing what she knows with others.
Here are some tips she's sharing with us.
But before we look at her list, she reminds us constantly that health care personnel from nurses, doctors, receptionists, technicians, and everyone else within our current environment and after enduring years of the pandemic crisis, are overwhelmed, overworked, overstressed, and tired. PLEASE be patient with them and THANK them for however they serve you. I often say, "Thank you for working," and a few pleasantries will go a long way.
1. You are the Director and most important member of your healthcare team.
          A. Healthcare professionals got into the profession to help people. They do want to help you and are usually doing the best they can.
          B. Healthcare systems are overloaded, and healthcare workers are overwhelmed. They have the knowledge that you want to know. Be kind AND be persistent. It's a winning combination.
          C. Be as knowledgeable as you can be. They are the experts, but to be effective in your Director's role, you should gather information before your visit to help you understand the choices and decisions.
          D. Keep good records. Yes, your healthcare providers keep records, but you should keep some records, too. I have a healthcare file on my computer.
One document entitled "Medical Timeline" is a list with entries such as "2001: Onset of idiopathic stomach pain." And "2010 January: First Reclast infusion." I keep further details in other folders. Current active issues are in folders I keep on my desktop. When something is resolved, I put that folder away in my healthcare folder. You can devise whatever system works for you. The older I get the more helpful these records become.
2. Have a healthcare advocate. This can be a friend or relative but it's always a good idea to have a second set of ears and a second perspective. Try to bring this person with you for office visits, virtual visits, and procedures. At the very least, bring someone when an important diagnosis is being made. 
During the early days of Covid when I couldn't accompany my husband for treatments and office visits, he would video chat me into the visit. He would let the doctor know as soon as he/she entered the room and ask permission. I found his doctors to be very accommodating. 
3. Prepare ahead of time for an office visit. Bring a concise, written list of concerns you want to address during the visit. You, your advocate, and your provider should each have a copy. This helps the provider see at a glance what needs to be discussed. Take notes and ask your advocate to take notes as well. 
Any time you're not sure you understand something, ask the doctor to explain it again. Sometimes I even ask the doctor to write down the name of a procedure, next steps I'm to take, how to take a medicine, the diagnosis, or the name of a health professional I'm being referred to. If I feel myself hesitating to ask a question because the doctor seems rushed, I ease the way by saying, "I know your time is of the essence, but I'm still having trouble understanding the steps you want me to take."
4. As Director of your healthcare, be sure to read the visit notes after an appointment (these days they are usually available in your patient portal) and be sure they're accurate. If there is an error, determine whether a particular mistake could make a difference in the future. 
For example, if a pulmonologist puts the wrong date of your last mammogram, you can let that go.  However, if a doctor is changing the dose of a prescription and the visit notes say you've been taking 25 mg for the last 2 weeks and it should read 2 months, then request that the notes be corrected. Be diligent about verifying that the change has been made.
5. Any time there is a serious or life-threatening illness, always get a second opinion no matter how much you trust the doctor. In the case of my husband's very aggressive cancer, we obtained four opinions.
At first my husband was reluctant to see any other doctors. He felt secure with the medical center where he started, didn't want to travel, and thought other opinions would just muddy the waters.  When he finally agreed, it ended up saving his life. Any good doctor will welcome a second opinion. 
Finally, a bit of education on wording. "Health care" are the specific things that people do, for example, see a patient or prescribe a medication. "Healthcare" is an industry, which means the system by which people get the health care they need.
With a hope for improved health and healthcare within this coming year, please take what you like and leave the rest. These suggestions are offered to provide a basis for taking care of yourself and your loved ones in this sometimes crazy world.
Her Nexx Chapter invites you to join our free Community where women from around the world are connecting with each other's stories, exploring different experiences, and transforming ideas.
The Future of Connection for Women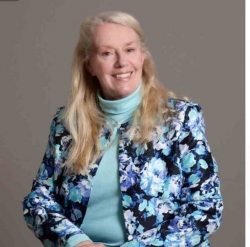 Latest posts by Grace Aspinall
(see all)
Follow us: