What would you do if your professional life had suddenly turned upside down? Certainly, starting your own business is not the first thing that would come to mind. 
But for business consultant Jan Barlow, creating her own consulting company just made sense. In 2009, Jan founded Better Job Fit Inc., which assists individuals though professional transition and helps entrepreneurs in the start-up phases of business growth. 
"It came from my own experience of pain, from being at the top of your game and having it all crash and burn in six months," Jan shared. 
Recognized as an industry catalyst, Jan optimized positions in elective surgery to achieve sales goals as the Business Development Manager at a leading pharmaceutical company. But a change in management had jeopardized her position and even her health. 
Jan recalled, "My experience of being hired specifically to perform job duties that were in my strengths and then haphazardly misaligned to a position and put in harm's way, almost killed me. It was all from emotional stress."
But from the ashes, Jan Barlow arose to her true entrepreneurial calling to do something greater that led her to create a consulting company and become the entrepreneurial Workshop Facilitator at Her Nexx Chapter. 
"I want to make sure that people are not placed in harm's way," she firmly said. "It has to be us as individuals to take that accountability and responsibility, to go from self-discovery to self-mastery and make sure you're doing everything you can — knowing about yourself, asking the right questions, and being true to who you are — to place yourself in positions of strength." 
Six years ago, Jan had met Her Nexx Chapter's founder Lady Chap, whose story had resonated with her own. With her 20 years in global business development, sales and marketing, and job-placement experience, she wanted to join Lady Chap's mission in helping women grow as entrepreneurs. 
Jan carries her business mantra as the host of Her Own Business. "I'd like to say that I facilitate and am a catalyst for people looking at their options," Jan reflected. 
Thus, Her Own Business is a collaboration between her and the individual to develop a business based on the client's strength and self-mastery. "I help people 'Create Their N.E.X.T.' (New. Exciting. Xtra-Ordinary. Transition.), whether it's their next position, side-gig or business."
One of the unique practices in this program is learning to overcome fear and limiting beliefs to achieve their business goals. Jan observed that although women possess an authentic connection to self, a debilitating fear comes with this self-awareness.
Jan explained, "The same skills that help women surpass men as leaders, (like empathy, nurturing, caregiving) are sometimes the reasons why we feel we can't take risks. Sometimes, there's a sense of martyrdom with women…placing the needs and desires of others in front of their own. [It's] fear. Fear is the emotional reaction to thoughts of lack, there's not enough of Me to go around."
Her Own Business strives to move through the fear to achieve self-mastery for business. Expected outcomes include knowing where to start, determining if you want to sell a product or your services, how to form and grow through business alliances, learning how to access free business resources and funding, and identifying post-COVID-19 business trends and opportunities — all customized to the individual's strengths, circumstances, and goals. 
With the pandemic, life has slowed down, "Like a car going 80 mph then all of a sudden you see brakes in front of you," as Jan puts it. "Now, you have to back up and decide if you're going to try to turn right or left. We have an opportunity now to decide what sparks joy and what are we called to do."
For some, this pause has awakened an entrepreneurial calling in them that Jan had back in 2009. Her Own Business aims to empower women to fulfill that calling, even with all the uncertainty around them. 
"Walking through and being able to share with people the 95% of opportunities that they don't know are out there for them is what is giving my clients hope," Jan shared. And hope in the face of adversity is exactly what Jan Barlow specializes in. 
Jan will be hosting Grow Your Business Now! on Wednesday, September 30 at 7 pm CT with other industry leaders who will share their secrets to exponential business growth! Join her for this FREE Zoom webinar. 
Also, you can avail yourself of a 30-Day Guest Pass and join Jan for Her Own Business every 1st Tuesday at 6 pm CT.
Our Her Nexx Chapter Community invites you to join us where women are connecting with each other's stories, exploring different experiences, and transforming ideas.
The Future of Connection for Women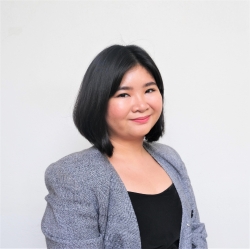 Latest posts by Anna Cayco
(see all)
Follow us: