Join Her Nexx Chapter for a virtual panel to kickstart your business as a female entrepreneur! Coach Jan Barlow of Her Own Business will be leading your journey to self-mastery for business along with four industry experts. Read about Cheryl, Vaska, Lisa, and Shawn below, and register to hear from them live on Wednesday, September 30 at 7 pm CT.
Cheryl Jones: Sharpening Your Business
"It is challenging seeing all of the needs of so many small businesses – especially now with COVID-19 – and not being able to reach them all, [to] inform them of possible resources, and [to] ultimately help them," Cheryl Jones admits. 
But as the Small Business Specialist in the City of Fort Worth's Economic Development Department, Cheryl continues to find motivation and exercise her ability to be an instrumental help to small and large successes. One of her key accomplishments is managing the Fort Worth Business Plan Competition, which provides resources on business planning, pitches, and profitable operations, for nine years. Before her current position, she has worked in banking institutions such as Wachovia, Chase, and Compass Bank, and was the locus between business owners and their successes.
Women business owners especially should take advantage of ways they can empower themselves and their business. "Women are naturally such a powerful force in the way they think, in the many roles they play, in their ability to multitask, and the overall reality they can be and they are survivors," Cheryl said. "Therefore, we should always seek ways to improve, sharpen the saw, and be the best of who we were created to be." 
Therefore, Cheryl looks forward to engaging with other women in the Grow Your Business Now! panel and share the insight she has to educate, encourage, and inspire. 
Don't miss out on this one-time opportunity to learn the experts' secrets of success at Grow Your Business Now! Register for this virtual panel here, and we'll see you on Wednesday, September 30 at 7 pm CT.

Now, meet our other speakers below.
Vaska Krabbe: Branding Your Business
"There are so many talented entrepreneurs out there who are on fire for bringing their message out," Vaska Krabbe stated on her website. "But despite all efforts, they fall into the ocean of sameness."
As a branding and styling strategist, Vaska Krabbe recognized how authentic branding can be an overlooked aspect of running a business. Since 2011, she has been lending her creative and strategic eye to different businesses as the CEO of Branding Brilliance. 
"I believe we all have brilliance in us. That brilliance is the key to your successful business, to your high self-confidence, to you being more and more your real you, your most wonderful you. I take great pride in helping women brand their brilliance," she said. 
To complement the technical aspect of growing a business, Vaska will be sharing her affinity for beauty and creativity to help form your brand in this panel discussion.
Lisa Ascolese: Inventing Your Business
"My philosophy in doing business is lifting each other two hands at a time – and sometimes you have to use a foot," Lisa Ascolese wittily said. 
Lisa, also known as "The Inventress" has had her share of struggles achieving success through her innate skills in innovation and entrepreneurship. But for 25 years, she has prevailed and created, prototyped, and patented products that have made it to television on QVC and HSN, then to the shelves of different retail stores.    
Thus, she founded Inventing A-to-Z, a consulting company that assists budding inventors to realize and develop their dreams. Particularly for women inventors, she also founded The Association of Women Inventors & Entrepreneurs (AWOIE), which is a non-profit organization with a mentorship program and conferences to encourage and foster entrepreneurship. 
With Grow Your Business Now! Lisa hopes to connect with new people, and listen and gain insight from the stories of different female business owners or aspiring entrepreneurs. 
"I think it's important for women to attend this event to encourage and inspire one another, to listen to each other's stories, and [to] learn from each other," Lisa said. 
Shawn Wills: Strategizing Your Business
"I love working with the women and learning all about their businesses, and how we can support their growth," Shawn Wills said.
And her professional background can speak for itself. Shawn is currently the Vice President for Operations & Strategy for the Women's Business Council – Southwest, whose mission is to connect women's business enterprises with its corporate members dedicated to buying products and services from these businesses. She is the driving force behind the overall strategy for the organization while overseeing marketing and communications, programs, events, and fundraising and outreach initiatives on different scales. 
Shawn was also the former Senior Vice President for Development for the Texas Women's Foundation, responsible for creating and implementing the strategy for fundraising campaigns to improve economic and leadership opportunities for women. 
Shawn is a great addition to the panel, not only for her business and strategy skills but also for her desire to see all types of women grow into their passions as leaders and thrive. 
Our Her Nexx Chapter Community invites you to join us where women are connecting with each other's stories, exploring different experiences, and transforming ideas.
The Future of Connection for Women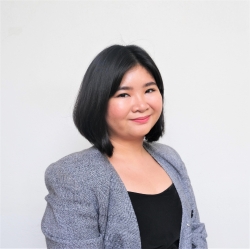 Latest posts by Anna Cayco
(see all)
Follow us: