As a motivational speaker, Kia Wells believes it's important to surround herself with positive energy. One of those sources is her own mother. 
"My mother is a very positive person," she shared. "If I come to her with a problem, she gives me sound advice… She teaches me to never give up — regardless of the situation." 
Additionally, Her Nexx Chapter's founder Lady Chap is also an inspiration to Kia. "I've never seen anyone — regardless of what's going on — always be positive. I love and admire women like her because it helps me."
Kia draws from the empowering environment in the organization to motivate her clients to overcome their fears regarding their finances.  
In July 2019, Kia had posted on social media looking to expand her annual showcase, The Men and Women in Business Showcase, in Texas. Since 2015, she has been heading the entrepreneurial pageant, inspired by her favorite TV show Shark Tank and the popular Miss America Pageant, for small business owners in Florida. 
This was a way for her to give back to her community. "I think that it's very vital because sometimes people may want to get out and start a business, but they don't know how or they're afraid to… With those who I'm around, I'm going to share and encourage and motivate them."
The post had reached Mary Mitchell-Foster, the Funding Development Director of Her Nexx Chapter. Thus, she connected with Kia and learned of her background in finance, along with being a motivational speaker at Speaker of Life and the owner of a laundry service.
Kia believes that women are at the forefront when it comes to budgeting. And yet, many women still lack the knowledge on attaining financial stability. 
Join Kia and other financial professionals for How to Have a Money Mindset on Thursday, October 15 at 6:30 pm CT. Register here for this one-time virtual panel to address your financial questions and concerns.
"We have to know these things," Kia stressed. "We have a responsibility as a wife, girlfriend, etc. In a lot of cases men look up to women and expect women to know and handle these things."
"I was that person," she recalled on her blog post. "I didn't understand what a budget was. All I knew was I had work, my rent, my car note, my light bill, but I never understood my income versus my expenses."
A key concept in financial freedom is having a money mindset. "With the money mindset, everything starts with our mind and trickles down. If you want to be better, you have to do better. If you want your finances to change, you have to start with yourself and with what's going on. If you want to change, create the change and start understanding that a change first has to be made," Kia explained.
This aligns with her motto: "The only person who stops you is you." Especially amid a pandemic, women have more initiative to gain or regain financial stability. 
"I often say it's not what we go through but how we grow through it," Kia said, recalling the advice her mother would give her. "Because we're always going to go through things. That's just life… But it's contingent upon you to take that situation or circumstance and what you can do differently so that it's not repeated. How can you grow from that situation?"
One of her memorable moments was receiving a call from a participant who had saved $200. Despite being a relatively small amount, this was a milestone for her as someone who had not been able to save anything before. 
"When she gave me that phone call I was grateful… what we say, what we teach, and what information we provide to others is not in vain. We never know how we may have impacted someone else's life," she admitted. 
"And sometimes I'd like to stay in contact with them," she continued. "I may give them a phone call or a text message just to say, 'Hey you may feel that no one hears or no one is there, but I'm going to take the time out of my schedule to just check on you and make sure you're okay.'" 
Moments like these are what keeps Kia continuing what she does best: motivating people for their successes. Women can not only empower themselves financially but also find someone they can rely on.
Our Her Nexx Chapter Community invites you to join us where women are connecting with each other's stories, exploring different experiences, and transforming ideas.
The Future of Connection for Women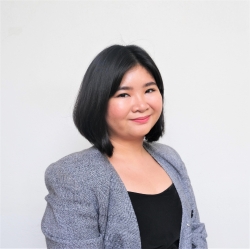 Latest posts by Anna Cayco
(see all)
Follow us: