How many times have we felt stressed, sad, annoyed or a bit crazy, during this quarantine time? Where I live in Germany, our lockdown was just extended. We can say at least once, maybe just for a day, these feelings have been our reality. Our mood change, therefore, is totally normal, but the way we can fight against this bad time is to focus our energy on something very creative. Turning off the screen could be the perfect idea, to reconnect ourselves with our reality, our body, our intentions. 
During the holiday season just past we have seen a lot of creative gifts bring joy to the recipients: Are we learning to take advantage of the time we have at our disposal? Are we realizing that life is not just passing time, is not searching for a comfortable way to spend the days? We are reconsidering our priorities and our meaning, even with difficulties and moments of discouragement: We want to fully exploit our potential.
Doing something creative could be therapeutic. When was the last time you tried something new? Discovering different things is the most powerful strategy to recharge your batteries, to reveal new aspects of yourself and really enjoy your daily life. Just hobbies? Maybe, but remember that your passions can also become your work, or stimulate new ideas and projects, or perhaps they are simply a lovely occasion to spend this lockdown's time.
Here you'll find some ideas that can change your day!
Kit for Candles
Are you passionate about the aromas in your house? What do you think about choosing which one to smell and then create it? Sentosphere is a French brand that gives you all the things you need to experiment with candles. Beeswax, wicks and essential oils: All ready for trying! You can put on some music or your favorite series while you are making candles of different flavors and colors, and at the end you will have a light that burns bright in your house. You can build hope's fire by yourself!
Handmade Soap 
House of Crafts is a British company that invites you to produce your own homemade soaps. You will receive 280 grams of glycerin, a tray with molds in three different forms, the dye, pipette and instructions. It could be very enjoyable to create and then try them out on you: Fill the bathtub and relax while you savor your new soap!
Planting the Future
Cultivea is a French brand that sells a complete package for those with a green thumb. You can experiment with the seeds and grow amazing and rare plants, flowers and vegetables. Discover the Purple carrot, the Yellow zucchini, the Red balls Brussel sprouts…and many more! At the end, you can of course develop new recipes and eat these. Imagine the face of your friend when, after the lockdown, you'll present new dishes with your homemade and rare vegetables!
Beer, Baby
Beer-making sets abound. There is a kit from Eazy brewing which allows you to create your own beer. Can you imagine how much fun you'll have drinking a beer you made yourself? Also look for the brand Braufaesschen, directly from the Oktoberfest in Germany. If you can't go to the party, the party can come to your place!
Scrapbooking
This is the moment to discover your artistic skills. Scrapbooking consists of presenting and arranging personal and family history in the form of a book, box, or card and it can bring out your most creative side. It's an easy way to capture and share your favorite memories, and you can easily find what you need in every stationery shop, or on the amazing website of the Italian To Do. 
A Paragraph of a New Life
During the first lockdown we were scared, but full of hope. I was aware of the gravity of the situation, but I decided that the best way to fight personally against a bad period is in choosing creative challenges.

I decided to prove my artistic skills, and I started with a bullet journal; this is a very creative way to organize your thoughts and list your dreams, hopes and ideas. Then, I realized that a bullet journal can also be a secret diary if you decide to add pages of memories, photos, and feelings, so I combined my forever passion of writing with graphics and art. I chose colors for my mood, and I put poetry, quotes, information about the virus cases, numbers, predictions. I decided to collect everything that came from my inside and turn it into a beautiful journey. 
Day by day I added something to my new artwork – now not just a journal, but the physical product of my emotions and abilities. I could enter into a new world (my personal world), away from the screen, and I could look in the eyes of my fears and accept them.
During these times, every creative choice could save us. If you need to shut down and you don't want to think, you don't have to necessarily design a collage of your mind's travel, but you can create soap or beer, or you can cook and explore gardening. You can realize how much work there is behind a handmade product, and you will appreciate the result: The human proof of healing. 
Our Her Nexx Chapter Community invites you to join us where women are connecting with each other's stories, exploring different experiences, and transforming ideas.
The Future of Connection for Women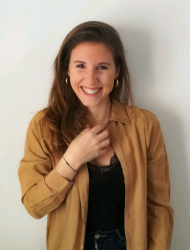 Latest posts by Marianna Santagata
(see all)
Follow us: