In a certain way, we are all in love with fashion. I don't mean that we all love clothes, just to be clear, but we are in love with that extraordinary language behind our everyday choices of outfits, or even just earrings or that bag's color. The human is a 100% communicative being, as we noticed during this difficult pandemic period, and fashion is a channel that we use to leave to the Other some clues about ourselves, our history and emotions. 
But consumers are tired of fast fashion; it's not only ruining the planet, it's also embedded in the logic of standardization in which the personality of each one tends to disappear, blending with the tastes of the masses.
Vintage fashion then is the partial answer to the ever stronger and current need to enhance diversity and, at the same time, it is the main road to follow in order to be aware consumers and responsible citizens. Vintage shopping opportunities are growing everywhere. Take a look at the best options we have to buy particular second-hand fashion. The possibilities are greatly enhanced where we can find a lot of vintage in online and offline stores. 
Vinokilo
Vinokilo is the home to thousands of handmade, vintage, and one-of-a-kind products. This is a pop-up shop for vintage clothing that encourages people to see clothes as timeless works of art at various events around Europe. Based in Germany, it carefully selects vintage objects and clothes, subjects them to a painstaking redevelopment process – washes, repairs, folds them by hand – and then sells them online or through pop-up events. An ingenious concept for vintage and eco-friendly shopping where you pay based on the weight of your purchases!
Vestiaire Collective
Vestiaire Collective is the largest second-hand luxury fashion marketplace and has the distinctiveness of offering certification of originality. Each member has the opportunity to create their own personalized online showcase with their favorite brands and be able to exchange clothes and accessories from their wishlist, share their favorite trends and comment on second-hand items for sale on the site. Obviously, labels and packaging are made with recycled materials. With VC you can really sense the heart of the French fashion, thanks to their vision and amazing collections of over 2 million items with 120,000 added weekly. 
ASOS 
You may know ASOS Marketplace, but do you also know that it currently houses 404 separate vintage boutiques? As their website asks: "Why should you be interested in Second Hand, Vintage or Retro Clothing?" This particular style of clothing is a great way to be unique and stand out, while getting a bargain at the same time. Often in vintage and retro clothing stores, you will find items that are extremely hard to come by and ones which are not obtainable in a regular store. The items are often branded, some unbranded, and they are also usually on sale at a much-reduced price to that of the recommended retail price in other stores. This allows for the consumer to pick up a choice piece of clothing at a discount.
Beyond Retro
Based in London, Beyond Retro opened eight more shops and is now operating in Canada, India, Pakistan, Sweden, America and obviously the UK. Its aim is "Inspiring Individuality in a Sustainable Way," offering the biggest, leading selection of handpicked vintage clothing with collections that comprise garments and accessories created from natural and man-made fabrics "that have been used to fashion ourselves for generations." Beyond Retro sells designer vintage and gives the consumer the opportunity to change her shopping behavior with a large selection of very interesting products. 
HUMANA Vintage & Second hand
We are not talking about only vintage clothes: "The HUMANA Vintage stores are designed to rediscover clothing, accessories, bijoux and other vanity items that tell the story of Italian fashion. All items, ranging from the 1960s to the 1990s, are on sale at affordable prices to support HUMANA's humanitarian projects in countries in the global South. Humana is a worldwide organization born in Italy that aims to raise funds through which it supports international cooperation projects, so we can say: act doubly with responsibility towards the world in which we live. The profits from sales are used to help humanitarian projects, and we can re-style our wardrobe in a sustainable way. 
We can say that fashion has arrived at a point where it can renew itself, on the basis of three words that definitively mark the new generations: personalization, slow fashion and sustainability. Personally, I prefer shopping in person, and as a European I cannot avoid telling you about the amazing Rue de la Verrerie in Paris, full of vintage kilo shops. Or if you travel in Milan, you can step into Vintage Delirium, the isle of every fashion's dreamer. Also, you can't miss the Flamingos Vintage Kilo in Madrid, or just take time to discover the infinite little shops and markets in Berlin and London. Explore and travel about this world of vintage fashion.
Our Her Nexx Chapter Community invites you to join us where women are connecting with each other's stories, exploring different experiences, and transforming ideas.
The Future of Connection for Women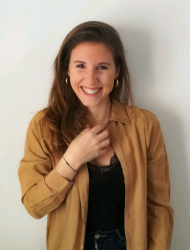 Latest posts by Marianna Santagata
(see all)
Follow us: