While volunteering has been a popular activity in the last few decades, it is not limited to the 20th and 21st century, with voluntary hospitals in the UK dating back to the 12th century. For this non-profit act to not only continue, but grow and develop into more organized forms, it is evident that there is something alluring about it; volunteerism is something that can appeal to people of all different backgrounds and interests from around the globe. So, what might some of the reasons be for people to take on volunteering? This article will explore the three most common reasons that motivate people to undertake these opportunities. 
1. A fantastic career booster
Studies on candidates' employability have found that 82% of employers would show more interest in applicants who have volunteering experience. Research like this is significant, as it portrays the value of volunteering not just for the cause you are helping, but also in the world of work. 
Why is this?
As any other experience, volunteering is an opportunity to learn and acquire new skills. For instance, teamwork, communication, and leadership tend to be key skills that are practised in volunteering work. These are attractive to employers, as they suggest that the applicants are arriving prepared for the job. However, the most important part of having volunteer experience is the fact that you present yourself as someone who is willing to go above and beyond to grow personally and professionally. As volunteering is not done for financial gain, there is a clear commitment to one's own development. This is an admirable quality to have, and a promising one for employers who are looking for innovative and loyal candidates. 
What if you already have the work experience and the skills for the job? Is volunteering really necessary to improve your resume or CV?
Yes! Volunteering should not just be seen as a place to learn new skills, it is also one where you can practise the ones you already possess to a higher level. If this is not something that interests you, you could use this opportunity to use your skills in different contexts than you are used to. Allow me to elaborate:
As a journalist, you might already have all the research and writing experience an employer would expect you to have. Why not find a volunteering opportunity where you can practise a different style of writing, such as fiction? Not only will you challenge yourself, but you will end up expanding your expertise further, showing employers your adaptability and knowledge depth. 
There is an endless number of benefits to having volunteering experience when job-hunting, so don't waste time and boost that profile of yours!
2. Empower yourself and others
Most of us have a cause that we feel passionate about. Whether that is related to politics, injustices or the arts is something up to each individual. With the incredible range of volunteering opportunities, it is guaranteed you will find something related to your interest. Giving back to a cause you strongly believe in can be a rewarding and fulfilling experience, and rightly so! You are part of the change. Without you and like-minded people, the group wouldn't be able to function. Even the most well-known humanitarian organisations like UNICEF would not have made such changes without the help of volunteers. Therefore, if you would like to make a difference in this world, volunteering is for you! 
If you feel uncertain about your passions, it doesn't need to be the end to your volunteering journey. Interests, and especially passions, can take time and experience to form. If you feel stuck right now, why not allow yourself to find your cause through volunteering? These opportunities are full of enriching and even unexpected encounters. So, do not close those doors because of your uncertainty. On the contrary, use volunteering to get inspired and allow yourself to walk on new paths of self-exploration.
3. Connect in the community
As social creatures, humans tend to crave connection on a social level (even as an introvert!). Volunteering is the perfect way to join a community and meet like-minded people with similar goals to you. Even if their reason for joining has a different root to yours, you are both fighting for the same cause, creating common ground for new relationships to flourish.
In our globalising world, moving from one city or even a country is a common situation for many of us. Thus, volunteering is especially relevant in those cases, as it can allow new residents to meet with locals and expand their network. 
While meeting similar individuals is a great experience, bonding with people can also be done through their differences. Volunteering abroad can be the perfect opportunity for this. Learning about a different culture, different systems of governance and so on are valuable experiences that allow us to broaden our horizons. For instance, why not teach abroad? Not only will you learn about a completely different education system, but you will learn about different customs and ways of living that you were not familiar with before. You might even end up having friends from different parts of the world and teach them about your culture too. How exciting is that?!
With the constant technological developments, online volunteering is an option too. If travel, a busy schedule or simply the unwillingness to meet physically with others puts you off volunteering, don't worry; you can still have all the benefits from the comfort of your own home!
Her Nexx Chapter is one those places where you can share your skills and talents online. If you would like to volunteer for our virtual organization, simply complete this form and tell us what you'd like to do!
Ways to volunteer
Now that we have established some of the reasons you should search for volunteering opportunities, discussing how to do this is the next vital step. 
Online Databases
These are the most common ways to find advertised opportunities. Just as regular paid work, these show available volunteering work that you can apply for. Some might ask you to send your resume or CV and complete a form similar to a paid job application, while others might simply ask you to contact them and express your interest.
Do-it.org is an online database for UK volunteering opportunities. It is a great option, as it allows you to filter your search by location, interests and so on.
United Nations Volunteers is a popular international database, which provides opportunities to work in different sectors, such as research and design. It currently has volunteers from 187 countries, making it a diverse place to look for work.
Catchafire is an online database that specifically relates to online volunteering opportunities. It is a great tool, as it matches non-profits with candidates based on the relevance of their skills.
The International Voluntary Service offers grassroots volunteer opportunities worldwide.
Organisations
Translators Without Borders is a non-profit organization that requires volunteers to translate for international organizations in order to provide humanitarian aid. This is a great opportunity for multilingual individuals or for those who would like to improve their language skills.
Project Gutenberg asks its volunteers to transcribe books into e-books and proofread others' work with the aim of creating the largest digital library.
The Future of Connection for Women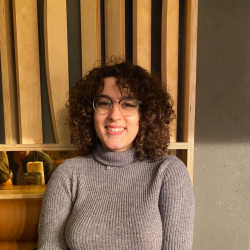 Latest posts by Nina Lelidou
(see all)
Follow us: